Jeopardy! Season 39 returned with a new episode on Friday, May 12, 2023, featuring seven-day champion Hannah Wilson. The data scientist from Chicago, Illinois, has been playing the season wonderfully well and achieving milestones in each game. She has also qualified for the Tournament of Champions.
The official synopsis of the game show reads:
"A returning champion and two challengers test their buzzer skills and their knowledge in a wide range of academic and popular categories."
In the latest episode, Hannah played against two new players – Skyler Gailing (an editorial & community associate from Exeter, New Hampshire) and Victoria Ford (an independent bookstore owner from Saint Paul, Minnesota).
---
Today's Jeopardy! winner is Hannah Wilson
Hannah Wilson played her eighth game tonight and didn't let her winning streak end there. Her performance was on the top from the first round itself.
The categories for the first round were "State Capital To State Capital, Triple Rhyme Time, Company Headquarters, A Birthday To Remember, Game Show Hosts, Army Ants."
Hannah had a great start as she delivered 18 correct answers. New players, Skyler Gailing and Victoria Ford, tried to level up their game but failed miserably. While Hannah was almost touching the $ 10,000 mark, Skyler only gave three correct answers and Victoria's score went into negatives.
The scores of the players in round 1 included Hannah at $9,200, Skyler at $2,000, and Victoria at -$1,200.
Hosted by Mayim Bialik, the second round's categories of the latest episode were "Life Is Picaresque, Solve For "Ex", Lesser-Known Film Trilogies, 7-Letter Animals, Hymns & Spirituals, This 20th Century World Leader…"
Hannah was on a roll in Double Jeopardy as her total number of correct answers went to 33. Unfortunately, Victoria and Skyler gave more incorrect than correct responses. The scores of the players were Hannah at $29,000, Victoria at $800, and Skyler at $0.
As Skyler's score didn't make her qualify for the final round, Final Jeopardy had only two players. It was an easy way to the winner's seat for Hannah as one player was disqualified and another's (Victoria) score didn't even cross $1,000. The data scientist was also the only one to provide the correct answer to the final question. Victoria bet almost all her money, and after losing in the final round, she left home with just $1.
Hence, Hannah Wilson won Jeopardy! today.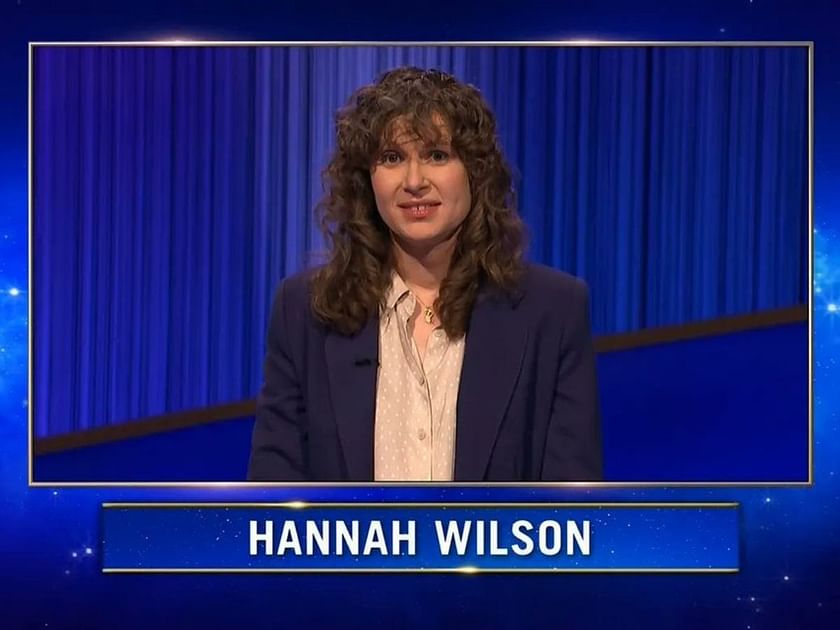 ---
Final Jeopardy! results today
Under the category of "New Words in the 18th Century," the final question, aka clue, of the May 12 episode read:
"Describing these, Captain Cook wrote, 'The manner in which' they're done 'must certainly cause intollerable pain.'"
The correct answer to the final clue was "tattoos."
Only Hannah gave the correct answer, while Victoria wrote, "Shackles." Skyler was disqualified from the final round as her score in the second round was zero.
Take a look at the game show's final results of the May 12 episode:
Hannah Wilson: $29,000 + $11,000 = $40,000 (What are tattoos?) (8-day total: $229,801)
Victoria Ford: $800 – $799 = $1 (What are shackles?)
Skyler Gailing: $0 (By show's rule, she didn't qualify)
With today's win, Hannah became the eight-day champion. It has been quite some time since a player has maintained such a lengthy winning streak. Prior to her, Stephen Webb won eight games before losing his ninth game on March 17, 2023.
Hannah's performance qualified her for the Tournament of Champions, alongside season 39 champions – Cris Pannullo, Ray Lalonde, Troy Meyer, and Luigi de Guzman. The Chicago native will return to play her ninth game next week.
---
Jeopardy! Season 39 will air a new episode on Monday, May 15, 2023.