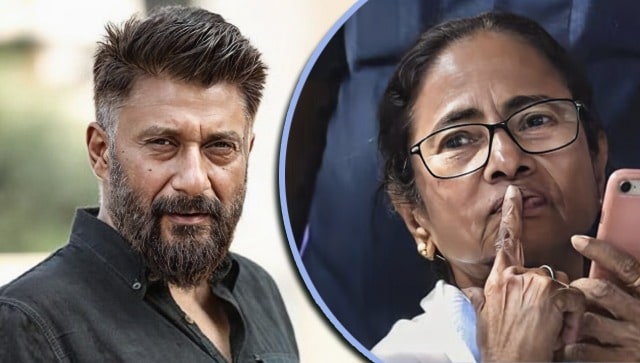 Filmmaker Vivek Agnihotri, his wife Pallavi Joshi and producer Abhishek Agarwal, have sent a legal notice to West Bengal Chief Minister Mamata Banerjee for making "false and highly defamatory statements" to "defame" their films 'The Kashmir Files' and 'The Delhi Files'.
"I have, alongwith @AbhishekOfficl & Pallavi Joshi, sent a LEGAL NOTICE to the Chief Minister, Bengal @MamataOfficial for her false & highly defamatory statements made with malafide intention to defame us & our films #TheKashmirFiles & upcoming 2024 film #TheDelhiFiles," Agnihotri tweeted.
The notice has been sent by Advocate Shyam Agrawal.
Mamata Banerjee has been asked to "tender unconditional apology" by "withdrawing all the allegations, statements and accusations made by you in your address to media on May 8 in respect of their films 'The Kashmir Files' and 'The Delhi Files', through the same mode and manner in all media including print, television and social, etc, within a period of one week from the date of receipt of this notice, failing which my clients will be constrained to initiate possible appreciate legal proceedings against you for defaming them and causing damage to their reputation, including claim of damages to be ascertained, holding you responsible for all the costs and consequences arising there from."
The notice states that the makers spent time and money and also took help from experts in doing research work in regard to the incidents that have been shown in 'The Kashmir Files'.
"It is only after getting themselves convinced and also confirming truthfulness from various sources, my clients had finalised the script of said movie. My clients had undergone great amount of strain, trauma, etc, in the process of making the movie and their main intention was to bring to the notice of the public the reality that has been hidden over the decades," read the notice.
"…though your statements caused grave amount of damage to the reputation of my clients and also the profit of the movie, but in view of the movie being a super hit all over the world and my clients getting appreciation from all corners, they did not wish to enter into any kind of controversy with you in view of your occupying such big position and remained silent," it added.
Further, it has been stated that the makers "planned to make a movie on the issue of Bengal genocide of the years 1946-47 and 1971, titled as 'The Delhi Files'. My clients have been doing the research work on subject and issue, they have engaged several persons to do serious job and have also been spending good amount of money"
The legal notice comes after Vivek Agnihotri said he was considering filing a defamation case against Mamata Banerjee after she on Monday alleged that the film was made to humiliate one section of the society.
"Yesterday Mamata Banerjee said that 'The Kashmir Files' and my upcoming film which is based on the genocide in Bengal, are propaganda. She said that BJP funds me for the films I make. We have sent a legal notice to CM Mamata Banerjee against the statements she made," Agnihotri said.
Through their legal notice, they have asked Mamata Banerjee to "either substantiate the allegations made by you against my clients and their movie by producing authenticated proof or to withdraw your statements by addressing media in similar manner and tendering unconditional apology to them."
(With inputs from agencies)
Read all the latest news, Trending news, Cricket news, Bollywood news,
India news and Entertainment news here. Follow us on Facebook, Twitter and Instagram.