Sumeet Vyas opens up on working with Sudhir Mishra in 'Afwaah' and also expresses his views on 'internet' and 'negative news consumption.'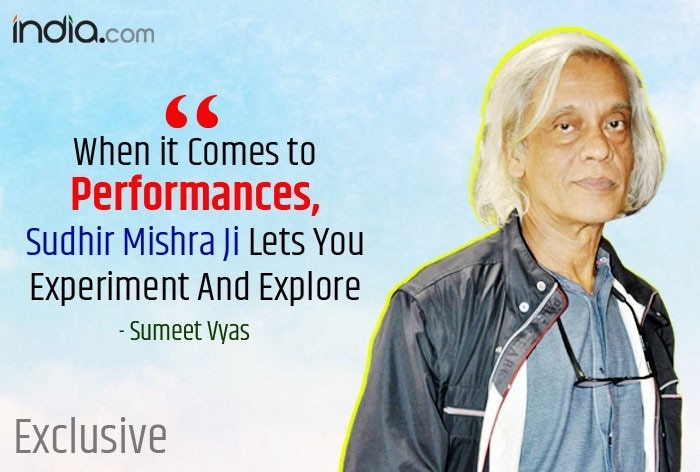 Sumeet Vyas on 'Sudhir Mishra' And 'Social Media Negativity' | Exclusive: Sumeet Vyas is someone who needs no introduction when it comes to films and web series. The actor has become symbolic of experimental storytelling and OTT (over-the-top) content. Sumeet's Permanent Roommates and Triplings series not just played a crucial role in his career but also encouraged filmmakers in the digital streaming revolution. The actor is being hailed for his performance in Sudhir Mishra's recently released social satire Afwaah. In an Exclusive interaction with India.com, he spoke about working with Sudhir Mishra, negative news consumption and utilising internet for doing productive things. The actor also revealed about his upcoming projects.
SUMEET VYAS SAYS PEOPLE SHOULD STAY AWAY FROM NEGATIVE INFORMATION ON THE INTERNET
Afwaah raises awareness about misinformation and fake news. When asked how artists should deal with social media negativity, Sumeet says "We should stay away from it (social media negativity). Human mind is not designed to take that much information. Throughout the day there is breaking news. How can there be breaking news 24 hours in every channel? Back in the day people used to go out and play volleyball, do other things, read books. In the evening they used to sit and watch news for an hour. So, it was fine, and we were well aware. But now people just consume news for entertainment and that is the unhealthiest thing you can do to yourself." He also points out "Through the world there is always going to be something evil or unfortunate that is going to happen. If you can't do anything about it then there is no point indulging in it all day. It desensitises you towards human loss and it can't be good for any generation. Internet can be used for so many other productive things. I have a very curious mind and I like to know how to do my plumbing work. You get to know about meditation and breathing. Why do you only want to consume negative information?"
SUMEET VYAS OPINES SATIRE AS A GENRE HAS VANISHED FROM THE SOCIETY
When asked what made him say yes to Afwaah, whether it was the script, working with Sudhir Mishra or the talented cast. The actor reveals "It was about working with Sudhir Mishra Ji. I have observed and admired his work all my life. I saw Is Raat Ki Subah Nahi at a very young age and that film had a very strong impression. I always wanted to be a part of a film like that. So, it was long impending desire to work with Sudhir Mishra Ji." Sumeet also opens up on his takeaways as an artist and a citizen while working on a socially relevant film like Afwaah. He says "I was working with such a senior director. While telling a story he wasn't bound by anything, and it was a very liberating experience. He is very open when it comes to performances and lets you explore, experiment, and try different things. Sudhir Ji encourages you to not just go by what is written but to get deeper. That was an experience like a film school to work in an environment like that. As a person also every film that you do or the story you are a part of leaves certain impression on you. This film is a satire, and the genre has sort of vanished from our society. There aren't satires anymore. Earlier there were cartoonists who used to create satires for newspapers and people used to appreciate them. Even filmmakers also used to make satirical cinema, but it has declined in the present times. Afwaah is a very important story, and I am definitely taking home a few pointers from the film."
SUMEET VYAS SAYS HE DOES NOT BELEIVE IN BEING ACTIVE ON SOCIAL MEDIA JUST FOR ATTENTION
Sumeet received a lot of acclaim and recognition post Permanent Roommates and Triplings. Though digital media has played a crucial role in his career, his new film is about rumours speculated on the internet. He answers on striking a balance between his personal life and social media. The Afwaah actor opines "You learn on the go on how to balance it out. Certain people take it very seriously being active on social media and following the trends. And then there are artists who prefer to take a backseat and talk about things that really matter to them or they feel like sharing. I'm of the opinion that if I have something to say then I post it on social media. But every day I don't have anything to talk about. There are some people who are on Twitter on a regular basis to talk about issues. For me it is not humanly possible to be affected by every issue. In order to have an opinion about a topic, I will have to read about it and investigate it. Only then can I go ahead and write about a cause on a public platform. So, I refrain from putting up anything just for attention. If I believe in something strongly, then I would like to do something about it rather than talk about it."
SUMEET VYAS SHARES MESSAGE FOR BUDDING CONTENT CREATORS
When asked about his message to budding actors, writers and directors, the Afwaah actor states that "This is the best time for content creators. People run vlogs about what they do through the day and there are millions of followers. So, if you have a story in mind which you think is going to resonate with a lot of people, you should try to explore it. People are looking for newer ways of storytelling. It's no longer dictated by two or three mediums, now it's an open field."
Apart from doing a new show, Sumeet also reveals that he is working on a film script and Triplings Season 4, as the third season was appreciated by the audiences. He concludes by saying that he has just started shooting for the third season of Permanent Roommates.
For more updates on Sumeet Vyas, check out this space at India.com. 




news-6028468/">Source link