The Supreme Court of India has agreed to hear a plea against the Kerala High Court's interim order where it refused to stay the release of the film 'The Kerala Story'.
The case will be heard on May 15. Senior advocate Kapil Sibbal brought the matter before a bench of Chief Justice of India DY Chandrachud for the early listing of the plea.
On May 5, the Kerala High Court refused to issue a stay order on the release of the film 'The Kerala Story'.
Decoding the narrative, backlash, controversy on the release of Vipul Shah's 'The Kerala Story'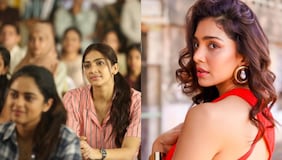 Actor Yogita Bihani on The Kerala Story: 'I felt an urgency to be part of the film'
It said that owing to the secular nature of Kerala's society, people will accept the film for what it is. The court also asked the petitioners how the movie, which it observed is fiction and not history, would create sectarianism and conflict in society.
"Nothing will happen just because the film is screened. The teaser of the film was released in November. What was offensive in the film? What is wrong in saying that Allah is the only God? The country gives citizens the right to believe in their religion and God and spread it. What was offensive in the trailer?" the court observed while considering a batch of petitions seeking to cancel the film's censor certificate.
The court added, "So many movies have already come out about such organizations. There have been references against Hindu monks and Christian priests in many films before. Did you see all this in the way of fiction? What is so special now? How does this movie create sectarianism and conflict in the society?"
Directed by Sudipto Sen and starring Adah Sharma, The Kerala Story has stirred up controversy across the country with many state banning it while others make it tax-free.
The trailer 'The Kerala Story' came under fire as it claimed that 32,000 girls from the state went missing and later joined the terrorist group, ISIS. Faced with backlash the makers then withdrew the figure and called the movie the story of three women from Kerala, in its trailer description.
With inputs from agencies
Read all the latest news, Trending news, Cricket news, Bollywood news,
India news and Entertainment news here. Follow us on Facebook, Twitter and Instagram.