[ad_1]

Prime Minister Narendra Modi on Thursday said that the world is marching towards a new world order and India's role and capabilities are also changing rapidly.
Addressing the Indian Diaspora in Paris, PM Modi said that the People-to-people connection is the strongest foundation of the India-France partnership,".
"Today the French Prime Minister came to greet me. Tomorrow I'll join my friend President Macron at the Bastille Day parade. This is a reflection of the bond between the two Nations," said PM Modi.
Related Articles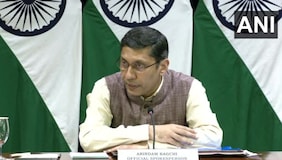 India's relationship with each country stands on its own: MEA on if PM Modi's visit to France is to counter China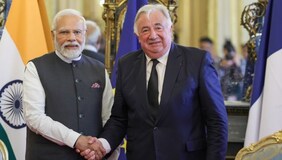 PM Modi meets French Senate President Gerard Larcher in Paris
India and France have agreed to use UPI in France. In the coming days, it will begin from the Eiffel Tower which means Indian tourists will now be able to pay in rupees, he said.
The PM also said that Indian students pursuing masters in France will be given 5-year long term post-study visa.
Whether it is climate change, supply chains, counter-terrorism or counter-radicalism, the world is looking to India, he added.
Hundreds of years ago, Indian soldiers were martyred on French soil protecting the pride of the country, he said, adding that the Punjab Regiment, one of the regiments that took part in the war here, is going to participate in the National Day Parade tomorrow.
The PM also hailed the contribution of Your members of the Indian diaspora in France towards improving the Indo-French relationship, saying that their efforts will be written in history in golden words.
The Prime Minister also said that the world has come to believe that it won't take long for India to become USD 5 trillion economy.
"Tomorrow, the soldiers of India's all three forces will take part in the Bastille Day Parade," says PM Modi during his interaction with the Indian diaspora at a community event in Paris."Wherever we Indians go, we make a 'mini-India' there," PM Modi said.
Earlier Prime Minister Narendra Modi was today accorded a red-carpet welcome as he arrived in Paris on a two-day visit during which he will hold wide-ranging talks with President Emmanuel Macron and join him for the French National Day celebrations as the Guest of Honour.
PM Modi met French counterpart Elisabeth Borne and discussed issues of bilateral and mutual interests.
He also interacted with children and members of the Indian diaspora on his arrival at the hotel in Paris. Enthusiastic Indian community members who were waiting outside his hotel chanted 'Bharat Mata ki Jai' as they met the prime minister.
Ahead of his departure, Modi expressed confidence that his visit will provide a new impetus to the bilateral strategic partnership.
Modi will also meet the vibrant Indian community, leading CEOs from both countries as well as prominent French personalities.
From Paris, Modi will travel to Abu Dhabi, United Arab Emirates, for an official visit on July 15.
[ad_2]

Source link