Nick Jonas broke the internet when he captioned his video on Instagram simply as 'red dress' and showed his wife looking gorgeous in the one. Here's why fans are going crazy.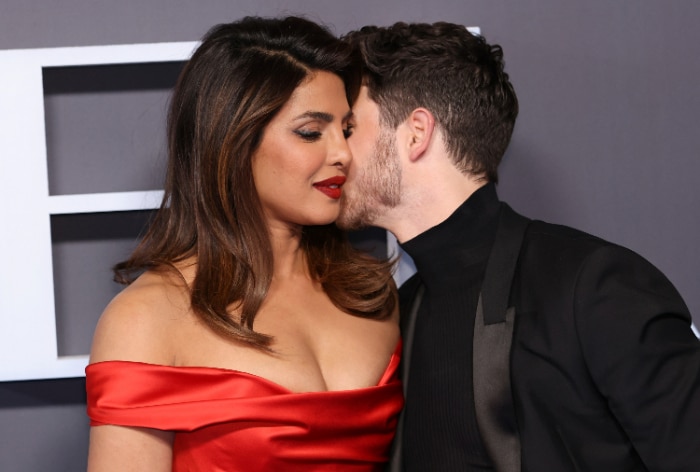 London: Priyanka Chopra and Nick Jonas made hearts aflutter at the London premiere of her upcoming series 'Citadel'. Nick, who is an American singer, was all supportive and in fact, celebrating his wife's success by being there, recording her, and cheering for her on the blue carpet of the event. Several pictures and videos from the event are now going viral on social media and most of them show Priyanka-Nick's adorable PDA where the husband just can't take his eyes off his wife.
For the special show, Priyanka stunned all in a bright red satin gown that came with a corseted bodice, off-shoulder detailing, and an A-line hem. The actor matched her makeup with the dress and went for a bold red lip. She had her hair styled side-parted in a wavy do and no jewellery to let that red dress take all the attention. Nick appeared in a cosy suit with a black sweater beneath his coat and a pair of matching formal pants.
THE 'RED DRESS'
Nick and Priyanka cut a romantic picture in front of the photographers. The singer even took to Instagram to cheer for his wife and simply wrote '#RedDress' in the caption of his post. The caption actually made his fans go crazy because that's part of the lyrics from one of his songs 'Burnin' Up'. There are many memes on social media about Nick always skipping singing the 'red dress' lyrics while performing at his concerts and this was finally that one rare moment when he used them for his wife.
The comments on Nick's post also highlighted the same fact. One user wrote, "Time to make a new music video for this song and put all the beautiful wives in red dresses (sic)." Another said, "But did you scream "RED DRESS" out loud?!? (sic)".
Meanwhile, Citadel, also starring Richard Madden will premiere on Amazon Prime Video on April 28. The show is created by Russo Brothers.