Google announced a Magic Editor Google Photos tool during I/O 2023 that will let you create fake images out of your photos with the help of generative AI. The feature goes beyond the AI capabilities already available in Google Photos, and I already explained why I dislike the idea of distorting reality like that. Thankfully, Google is also introducing features to help you spot AI-generated fake photos.
Below, I'll show you how easy it is to do it. But also explain why it's not enough, as Google Search might not be able to recognize fake AI photos automatically.
Here's how Google opens the blog post announcing the new About this image feature intended to help identify AI-generated fake images:
Have you ever found yourself in this position? You see an image on a website, in your feed, or in a message from a friend — and you think, "this doesn't feel quite right." Is the image being shown in the right context? Has it been manipulated or faked? Where did it come from? When you're trying to figure out if a piece of information or an image is reliable, having the full story is key.

Sixty-two percent of people believe they come across misinformation daily or weekly, according to a 2022 Poynter study.
The problem is that some people might use tools like Google's new Magic Editor to do exactly that: Disseminate fake pics online for the purpose of duping others.
Google has yet to announce a tool that automatically detects generative AI photos. But the company said it will always mark its own generative AI photos so that users know the image was generated with Google tools.
Here's what Google markups will look like:

Google also notes that "you can expect to see these from several publishers including Midjourney, Shutterstock, and others in the coming months." But that's not a guarantee that all services will mark generative AI images accordingly, or that creators will.
How to use About this image to spot fake AI photos online
Thankfully, Google is taking steps to help you determine whether some of the images you find online are real or generative AI fakes. This feature will not work on all photos you find online. And it might not help you determine whether your friends share generative AI images in a group chat.
But the feature can work where it matters, spotting news stories meant to manipulate public opinion.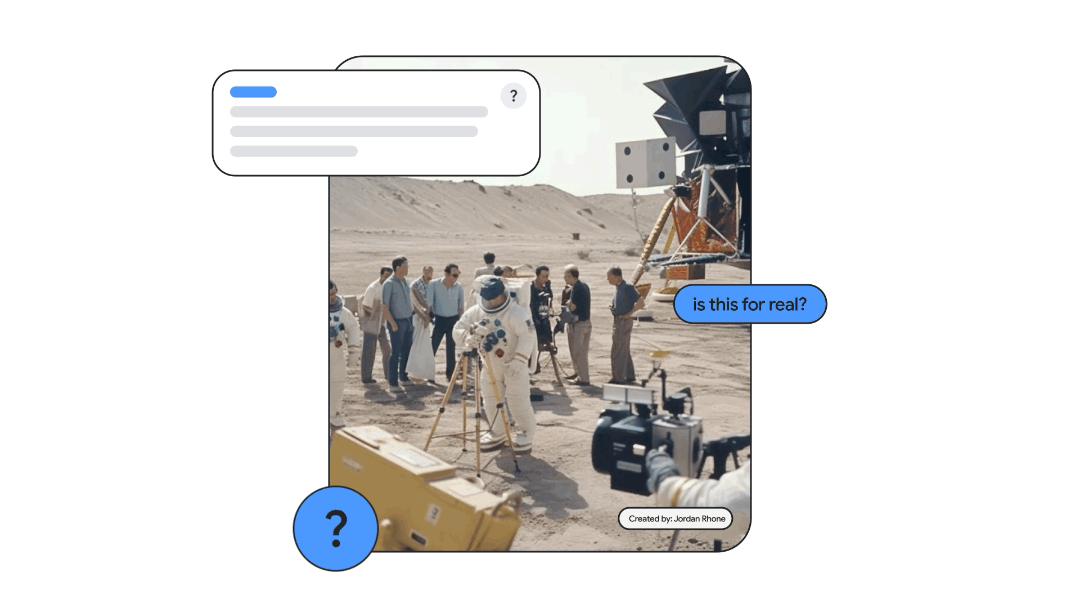 About this image will be available in the US in English first. It'll provide the following important contextual information, according to Google:
When the image and similar images were first indexed by Google
Where it may have first appeared
Where else it's been seen online (like on news, social, or fact-checking sites)
Google uses the Moon landing example above to show how About this image works. The feature provides the context you need to realize the image is fake.
Here's how to use About this image:
Click the three dots on an image in Google Images
Search with an image or screenshot in Google Lens
Swipe up in the Google app
Right-click or long-press an image in Google Chrome on desktop or mobile (the feature will be available later this year)
But, again, if an image is brand new and lacks any generative AI markings, the About this image feature will not be able to tell if it's fake or real until it gets more information from other places.