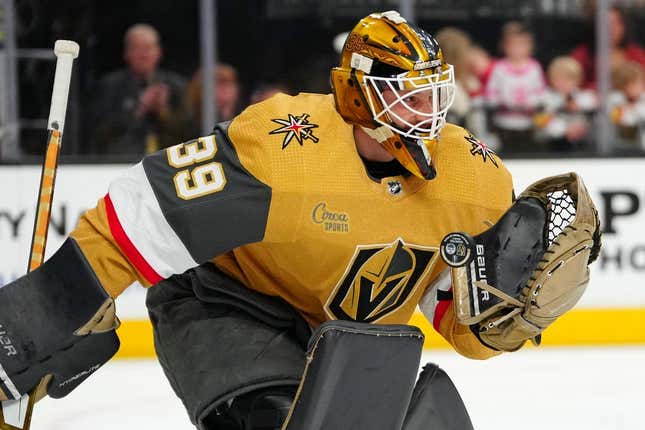 Vegas goaltender Laurent Brossoit left midway through the first period of the Golden Knights' Western Conference semifinal playoff game against the Edmonton Oilers on Monday due to an injury
Is Suns owner Mat Ishbia's tweet window dressing for imminent revenge? | Andy Reacts
Adin Hill took the net in Brossoit's place at 11:48 of the clash, which was tied 1-1 in Edmonton. The series was tied 1-1 before Monday's game.
Brossoit, who dealt with injuries throughout the season but was the club's top goalie down the stretch, appeared to hurt himself while moving across the net on a rebound chance. He made no attempt to get to his feet on the play before the whistle sounded.
He was given a big ovation from the Edmonton fans as he left the ice with teammates supporting him to keep weight off his left leg, and he reportedly struggled to make his way to the dressing room.
Brossoit went into the game boasting a 5-2 record with a 3.13 goals-against average and an .896 save percentage in the 2023 postseason. In 11 games during the just concluded regular season, he went 7-0-3 with a 2.17 GAA and a .927 save percentage.
–Field Level Media