Karnataka Election 2023: PM Modi will hold the roadshow on a 10-km stretch between the Kempegowda statue at Thippasandra to Trinity Circle in Bengaluru.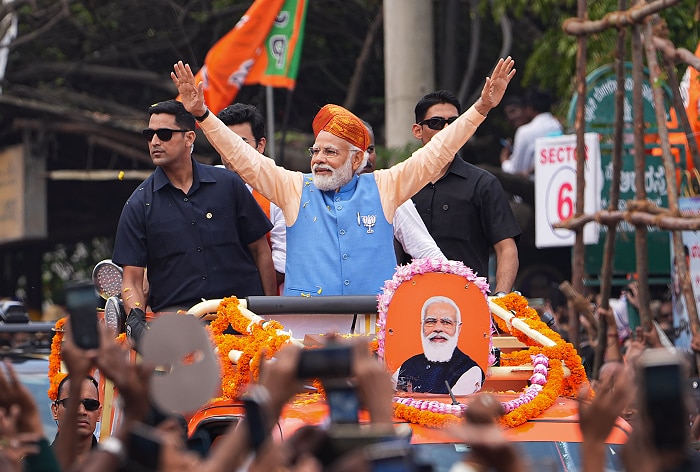 Karnataka Election 2023: As only three are days left for the Karnataka Assembly elections, Prime Minister Narendra Modi will hold a massive roadshow in Bengaluru on Sunday. However, the roadshow will be on a shorter route due to the NEET UG 2023. He will hold the roadshow on a 10-km stretch between the Kempegowda statue at Thippasandra to Trinity Circle in Bengaluru.
#WATCH | Prime Minister Narendra Modi begins his roadshow in Bengaluru ahead of #KarnatakaAssemblyElection

PM started his roadshow from the Kempegowda statue at New Tippasandra Road and it will end at Trinity Circle. pic.twitter.com/E0nTk6eifJ

— ANI (@ANI) May 7, 2023
Due to NEET UG 2023, the BJP on Friday changed PM Modi's two-day roadshow in Bengaluru. The BJP had earlier planned to hold the roadshow for eight hours on Saturday alone but it later split into two parts — on Saturday and Sunday to avoid inconvenience to the public.
List of roads to avoid on Sunday
As per the notification issued by the Bengaluru traffic police, commuters/motorists may avoid the following roads from 8 AM to 12 PM:
Raj Bhavan Road
Mekhri Circle
T Chowdaiah Road
Ramanamaharshi Road
Old Airport Road
Suranjandas Road
MG Road
Jagadeeshnagar Cross
JB Nagar Main Road
BEML Junction
80ft ROad Indiranagar
New Thippasandra Road
12th Main Road 100 ft Road Indiranagar, Cauvery School
CMH road
Sawmy Vivekananda Road
Halasuru Metro stration
Trinity Junction
PM Modi on Saturday held a roadshow from Someshwar Bhavan RBI Ground in Bengaluru South to Malleshwaram's Sankey Tank.
On Saturday, he said the overwhelming response he received in Bengaluru during the roadshow made him believe that it is the people who are contesting the 2023 assembly elections in Karnataka on behalf of the BJP.
He also said the "never-seen-before love and affection he saw in Bengaluru was unparalleled".
"This morning, I went to have a 'Darshan' (opportunity to see) of 'Janata Janardhan' (public God) in Bengaluru. People gave me 'never-seen-before' love and affection," Modi said at a public meeting here in Bagalkote district of poll-bound Karnataka, which votes on May 10.
He also said the BJP's "double engine" government has been working on bringing in development without discrimination.
Hitting out at the Congress, Modi said the Congress party has a "track record of 85 per cent commission, they can never work to serve the people".