As Congress inches closer to victory in Karnataka, Congress General Secretary Jairam Ramesh said that the grand old party's win in the southern state is now "certain".
"As the results firm up in Karnataka it is now certain that the Congress has won and the PM has lost. The BJP had made its election campaign a referendum on the PM and on the state getting his 'ashirwaad'. That has been decisively rejected!" he said in a tweet.
जैसे-जैसे कर्नाटक चुनाव का परिणाम अंतिम रूप ले रहा है, वैसे-वैसे स्पष्ट होता जा रहा है कि कांग्रेस जीत गई है और प्रधानमंत्री हार गए हैं। बीजेपी ने अपने चुनाव अभियान को पीएम और राज्य को उनका 'आशीर्वाद' मिलने को लेकर जनमत संग्रह बना लिया था। इसे स्पष्ट रूप से खारिज कर दिया गया है!…

— Jairam Ramesh (@Jairam_Ramesh) May 13, 2023
Related Articles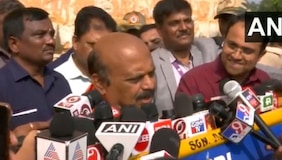 Karnataka Polls 2023: 'I will win by a record margin', says CM Bommai after casting his vote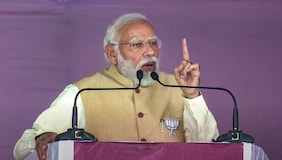 Karnataka Elections 2023: Congress running an 'outdated engine', will deter development in state, says PM Modi
Meanwhile, Congress party members have already begun celebrating in various states.
जैसे-जैसे कर्नाटक चुनाव का परिणाम अंतिम रूप ले रहा है, वैसे-वैसे स्पष्ट होता जा रहा है कि कांग्रेस जीत गई है और प्रधानमंत्री हार गए हैं। बीजेपी ने अपने चुनाव अभियान को पीएम और राज्य को उनका 'आशीर्वाद' मिलने को लेकर जनमत संग्रह बना लिया था। इसे स्पष्ट रूप से खारिज कर दिया गया है!…

— Jairam Ramesh (@Jairam_Ramesh) May 13, 2023
Chief Minister Basavraj Bommai has conceded to BJP's victory in Karnataka. He said, "We've not been able to make the mark. Once the results come we will do a detailed analysis. As a national party, we will not only analyse but also see what deficiencies and gaps were left at various levels. We take this result in our stride."
Commenting on the party's possible victory, Congress leader Siddaramaiah said, "We told that even if PM Modi comes nothing will work and see that has happened. We are leading in 120 seats. As we expected we will get the majority."
Catch all the live updates on Karnataka Assembly Elections 2023 here
Notably, Congress' poll promise focused on local issues of livelihood and food security, price rise, farmer distress, electricity supply, joblessness and corruption, Jairam noted.
He added, "The PM injected divisiveness and attempted polarisation. The vote in Karnataka is for an engine in Bengaluru that will combine economic growth with social harmony."
With inputs from agencies
Read all the latest news, Trending news, Cricket news, Bollywood news,
India news and Entertainment news here. Follow us on Facebook, Twitter and Instagram.