In order to combat terrorism, security experts have called for a change in strategy, including the bolstering of intelligence and deployment, in the border districts of Poonch and Rajouri in Jammu and Kashmir, citing high casualty figures of the soldiers in the last 18 months in the region.
Since October 11, 2021, a total of 26 Army personnel, including three officers and five paratroopers, and seven civilians have been killed in eight terror attacks in the two regions.
There is an effort by Pakistan to revive terrorism in the Jammu region, defence and security experts said.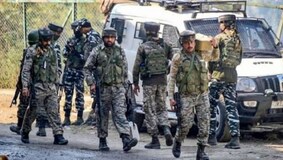 Jammu and Kashmir: 2 Indian Army soldiers martyred, 4 injured in Rajouri encounter
Jammu and Kashmir: Defence Minister Rajnath Singh visits Rajouri encounter spot, reviews situation
"Since October 2021, if you see the events, there is a concerted effort from across (the border) to disturb and and revive terrorism in the Jammu region, which has been free of terrorism largely from 17 to 18 years," former J-K director general of police (DGP) S P Vaid told PTI.
He said since the abrogation of Article 370, the entire terror ecosystem is being uprooted with most cadres and leadership of terrorists already eliminated.
Several strategies of the terrorists, including the targeted killings of Kashmiri Pandits, have been foiled by the security agencies, he said.
The former police chief said terrorists are now targeting the Rajouri-Poonch belt in the Pir Panjal region "after suffering setbacks in Kashmir".
On October 11, 2021, terrorists carried out a major attack in Surankote in Poonch district, killing five soldiers, including a JCO. Two jawans were were killed in the Dera ki Gali belt on October 13 in another attack. Two weeks later, two soldiers, including an officer, died in an IED blast in Kalal, Rajouri.
Other prominent terror incidents in the region include a fidayeen attack on a military camp in Rajouri on August 11, 2022, killing five soldiers. An attack in Bhatta Dhurian killed another five soldiers. The latest attack occurred on May 5 when five paratroopers of special forces were killed.
Defence expert Brig (retd) Vijay Sagar Dheman said the attacks in the two border districts are serious. "Jawans are being martyred. Public is being inconvenienced. They are losing faith in administration," he said. He added that security agencies are working overtime to stop the attacks.
Security experts say that there is a need to change the strategy in the region and strengthen intelligence and deployment in the region to counter the activities of terrorists.
Dheman said security agencies need to keep changing their strategies as terrorists too modify their plans as per requirement. "The moment you get successes, they will change their tactics to counter your moves and you will counter theirs. This cat and mouse game continues," he said.
The defence expert said the strategy should be shifted from kinetic military action, which means aggressive cordon and search operations, to intelligence-based operations. "Strengthen your intelligence agencies and they should pick up moles or overground workers and underground workers," Dheman said.
(With inputs from PTI)
Read all the latest news, Trending news, Cricket news, Bollywood news,
India news and Entertainment news here. Follow us on Facebook, Twitter and Instagram.