[ad_1]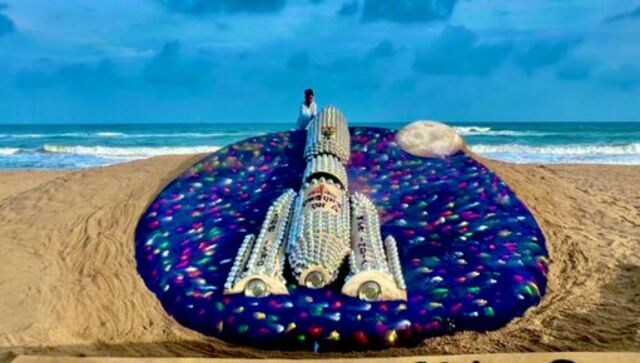 As India is on the verge of making history with its lunar mission Chandrayaan-3, renowned sand artist Sudarshan Pattnaik has expressed his support for the Indian Space Research Organization (ISRO). Sudarshan Pattnaik's awe-inspiring sand art is well-known, and for ISRO's upcoming lunar mission, Chandrayaan-3, he made a remarkable sand art creation.
Pattnaik crafted a magnificent sand sculpture measuring 22 feet in length, depicting Chandrayaan-3, at Puri Beach in Odisha. Using 500 steel bowls and dishes, he intricately conveyed the message "Vijayee Bhava," wishing ISRO success in its mission.
Vijayee Bhava!
As India attempts to land on the moon with #Chandrayan3, We wish success for the mission . My SandArt installation with 500 steel bowls with a message "Vijayee Bhava", at Puri beach in Odisha . @isro pic.twitter.com/seroZKCQ2t

— Sudarsan Pattnaik (@sudarsansand) July 14, 2023
After a setback in 2019 when Chandrayaan-2 encountered a crash landing on the moon's surface, all eyes are now turned towards Chandrayaan-3. This mission holds the potential to establish India among the elite ranks of countries like the United States, Russia, and China, which have achieved the feat of a soft landing on the Moon.
The countdown for Chandrayaan-3 commenced on Thursday at 14:35:17 IST, signaling the approach of the scheduled launch from the Satish Dhawan Space Centre. The spacecraft will be propelled into space by the powerful GSLV Mark 3 (LVM 3), a robust heavy-lift launch vehicle.
Embarking on its journey, Chandrayaan-3 will traverse the vast expanse of space for over a month before reaching its destination, the Moon. The mission's anticipated landing is set for late August.
ISRO planned to begin the LIVE webcast for Chandrayaan-3 approximately 30 minutes prior to liftoff, with a scheduled time of 2 pm, accessible through ISRO's official YouTube channel. Furthermore, the space agency will also provide a live stream of the launch on its official website and Facebook page, ensuring wider access to the momentous event.
Along with every citizen, Sudharshan Pattnaik, too, is rooting for and supporting ISRO and their lunar mission. The intricate details and symbolic representation of Chandrayaan-3 in his sculpture reflect the aspirations of the Indian populace for a successful endeavour in space exploration. As the launch day is here, the nation eagerly awaits the unfolding of this significant chapter in India's space odyssey.
Related Articles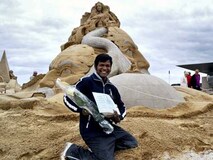 Sand artist Sudarshan wins Copenhagen award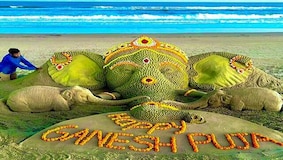 Sand artist Sudarsan Pattnaik creates Lord Ganesha sculpture out of over 3,000 sand laddoos


[ad_2]

Source link