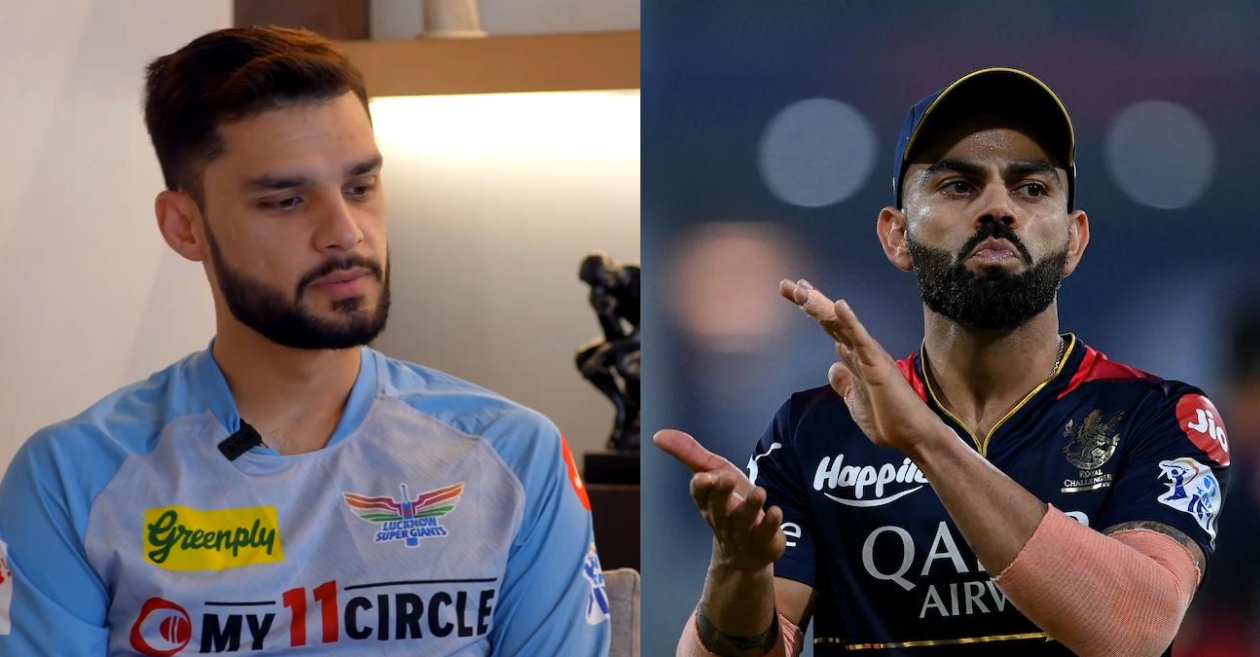 Afghanistan and Lucknow Super Giants (LSG) fast bowler Naveen ul Haq is once again in the headlines. However, this time it's not any exchange of words or internet digs but a funny interview of Naveen that is doing rounds on the internet. The video of the same was released by LSG on their official Twitter handle.
In the clip, Naveen can be seen interacting with his fellow LSG teammate Avesh Khan and answering a few questions on various topics. When asked about any sledging incident that took place in his career, the 23-year-old pacer started by saying that he's never the first person to start an argument and went on to share a funny anecdote from a match in first-class cricket.
"I have never seldged anyone upfront, that's not my habit. There was a First Class game where I was at the non-striker's end with whom I had a bit of a sledging incident. The guy fielding at slip position was recently married. He asked us to finish the game quickly as it was the last wicket. He said he needed to go home because of some work. That is one sledging incident I remember from the First Class Game," recalled Naveen.
Avesh quickly cross-questioned Naveen and asked: "This was a funny incident, but what about a serious one."
The Afghani cricketer responded to Avesh in a quirky manner and said: "Serious one never happened."
Avesh. Naveen. Too much fun 😂

Also, wait till 1.39 👀@AstralAdhesives | #bondtite pic.twitter.com/QlKnyZSgHu

— Lucknow Super Giants (@LucknowIPL) May 12, 2023
Notably, Naveen recently engaged in a heated altercation with Royal Challengers Bangalore (RCB) batter Virat Kohli during a match in the Indian Premier League (IPL) 2023 and was even fined for the misconduct. While Kohli was charged 100% of his match fee, Naveen was slapped with 50% of his match payment. Following the fight, both players even shared a few cryptic posts for each other on their social media handles.
Speaking of the current scenario, the duo seems to have moved on from the fight as Virat recently took to his Instagram and shared a video of famous American comedian Kevin Harts on his story, which talked about not holding grudges. In the meantime, the "Serious one never happened" remark of Naveen also indicates the same.