Hello! Who are you and what business did you start?
Hey! I'm Marie Poulin, and in 2014 I teamed up with my husband Ben Borowski under the brand Oki Doki to deliver consulting, design, and digital strategy services. Previously we'd both been running our freelance operations for several years, and our skillset had such a complementary overlap that we decided to unify our services together under one company.
Over the years we shifted our niche toward course creators since it was a large majority of our client services. We dove deep into curriculum design and worked with several experts over the years to help our clients streamline the user experience of their students. As we got more and more familiar with the nuances of online course delivery, we began developing our courses and even built our course delivery platform.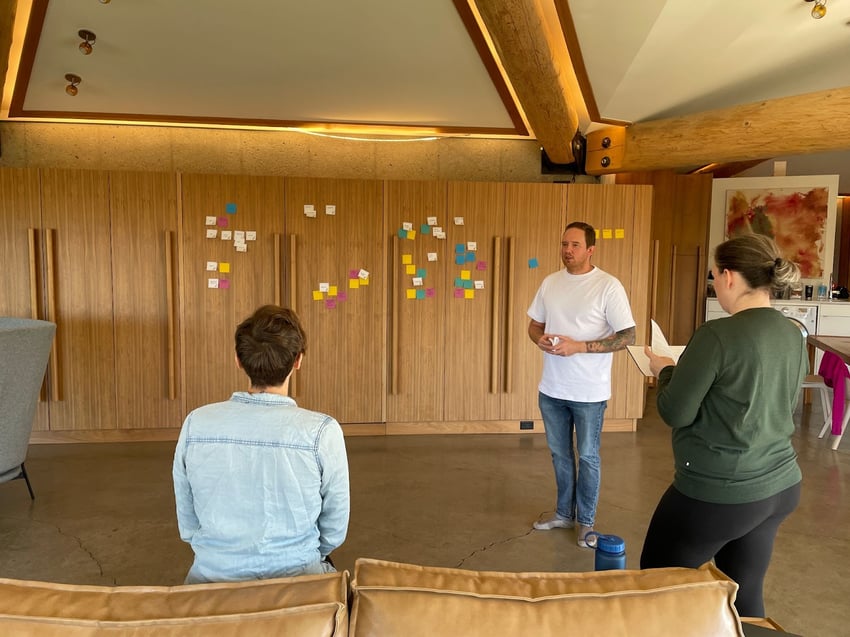 The team at a recent strategy session
Today we are 4 full-time team members, and the majority of our revenue and efforts come from our signature course, Notion Mastery. This course now generates an average of about $40k/month for the company.
What's your backstory and how did you come up with the idea?
​​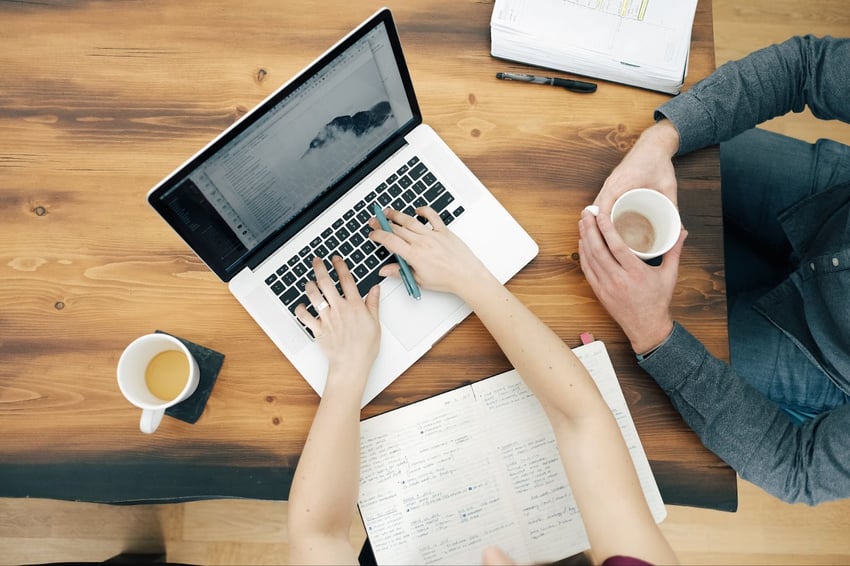 If you can view your potential "competitors" as simply possible future collaborators, everything changes and possibilities open.
In 2021 I was diagnosed with ADHD, but up until that point, I had no idea that there was a reason I struggled so much with my organization. Project and time management, boundaries, and burnout were a constant source of stress, and systems became a frequent obsession. I was always reading about productivity and systems and wondered why all the standard advice didn't seem to work for me.
In 2018 I discovered a software tool called Notion. I'd been feeling scattered between my various apps and notebooks, and often felt like things were falling through the cracks, or I wasn't following through on my goals. When I saw how flexible Notion was, and that I could design my workspaces in any way that my brain could dream up, it was like a whole new world opened up.
I started organizing every aspect of my life and business inside the tool.
Goals and strategic planning
Project and task management
Templates for standardizing actions
Weekly and daily review
Daily journaling and mood tracking
Documentation and SOPs
Nerdy deep dives and study projects
Piece-by-piece, Notion became a central source of truth for all areas of my life, and eventually (after some convincing of my husband) our central business operations.
I was so excited about what Notion was helping me do, that I was sharing it with everyone who would listen. As I continued to share the ways I was using it, I was getting so many questions about it.
Eventually, I worked up the courage to start a YouTube channel and share my tips & tricks, as well as a free webinar that caught the attention of the Notion COO. We agreed to explore some collaborative live events, and my audience grew exponentially.
The second time someone said "If you make a course for this I would gladly pay you," I knew it was time to ship a product.
At the time my plate was full with client projects, so I knew I was going to have to make some major changes. Over about 3-4 months, I began letting my clients go, referring them out to other people I trusted. I knew if I was going to launch a product, I was going to have to make space!
I ran a free webinar in Aug 2019 to share how I was using the tool. In September I started a Notion-focused Youtube Channel, and by late October I had my first beta course pre-sale for what would become Notion Mastery: an online course that helps entrepreneurs and small business owners organize their life and business with Notion.
I've been iterating on the course ever since!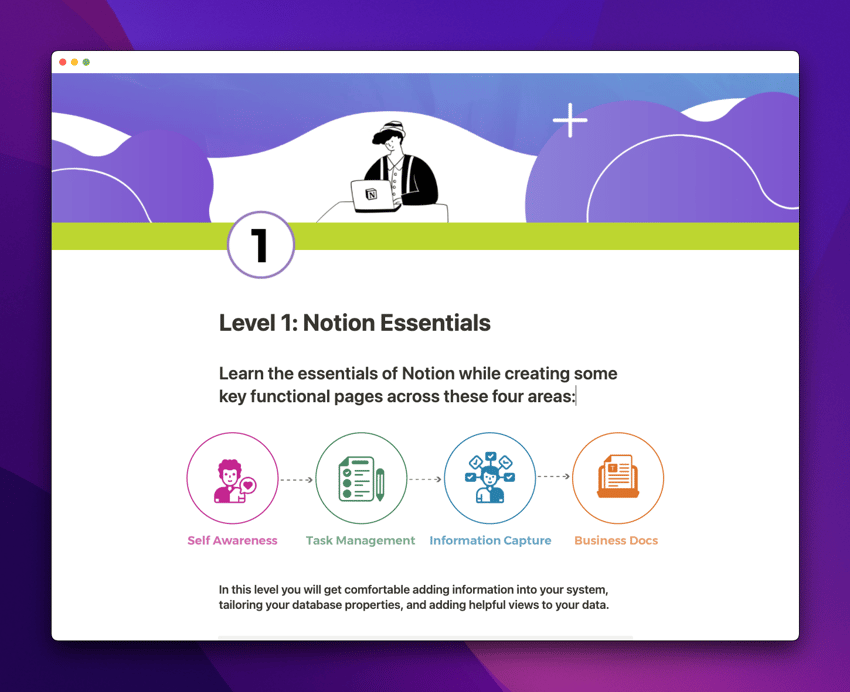 The Notion Mastery course inside Notion
Take us through the process of designing, prototyping, and manufacturing your first product.
I'm a big fan of beta launches, which can take the pressure off when you're launching something for the first time.
I made a very simple pre-sale page that offered a basic curriculum, and live Zoom calls each week for 6 weeks. It was a mix of teaching, demo, and coaching, and it was priced at $295. I initially limited it to 25 students, but eventually decided to leave registration open, and continued to let new students in.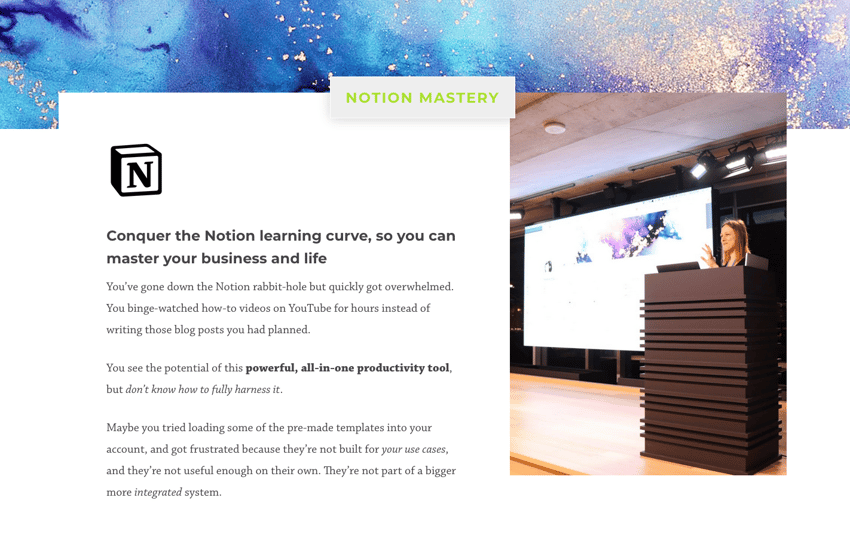 An early iteration of the sales page
At this point, I had made no public announcement other than a mention on my Twitter account and shared the link with a few friends and colleagues.
The pilot launch generated around $10k in the first week.
By the end of the 6 weeks, it was clear that we were only scratching the surface, and there was so much more work to do! I continued to offer weekly office hours while I improved the course and developed a new curriculum.
I have continued to treat this first group as "legacy" customers, and they continue to get access to all the iterations and changes to the course, even 3 years later. I used the feedback from this group to continue improving the course and designing a more polished experience.
The course was essentially designed and delivered inside my Notion workspace, but this was a very manual process. After each sale, we had to manually invite users in as guests into our workspace. It was great for testing interest, but it wasn't scalable long-term.
Since the course still felt like it was in progress for the next 6+ months (and even longer as Notion continued to improve its features), I didn't actively promote it, but people were still finding out about it through YouTube and Twitter, so there was a steady stream of signups even though it was still (to me) a very "beta" product.
Describe the process of launching the business.
See above. We never really "launched" our business…we mostly merged under our new brand but kept offering the same services. We never really made a splashy announcement; we just kept working with our favorite clients!
Since launch, what has worked to attract and retain customers?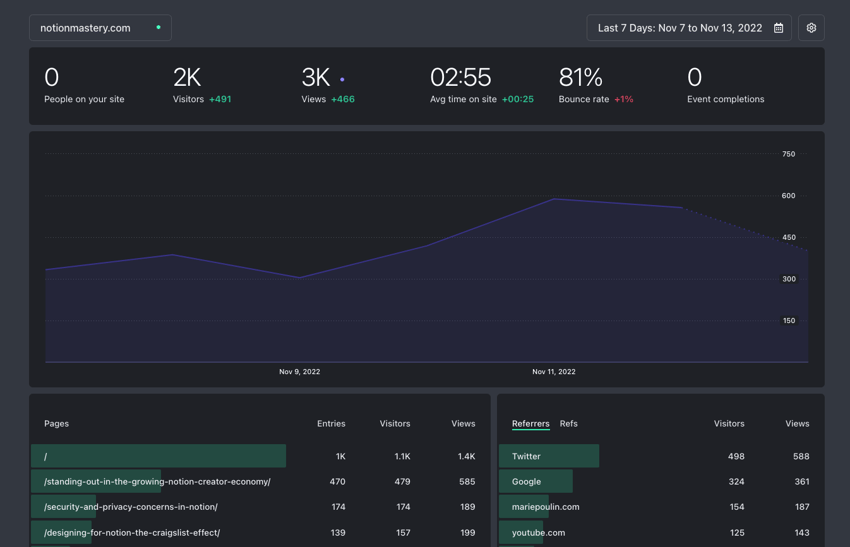 We use Fathom Analytics for metrics.
Youtube continues to be our primary marketing channel, followed by Twitter, Google search, and our email newsletter.
I already had somewhat of an audience from my years as a designer, and many of these folks continued following me after my pivot, so I wasn't starting from scratch.
Our publishing schedule is somewhat sporadic (hello, ADHD!), but we try to post at least one video monthly (ideally every week or two).
On Twitter, we tease out examples and sneak peeks of our workspaces and material from the course, and that always seems to drive sales.
Twitter is also a fantastic channel for students sharing their love for the course!
Example:
We retweet those as social proof for the course.
We also seem to have really good organic search engine results.
Our affiliate program also works well, and is probably a seriously underutilized channel for us! Since many of our students are business owners or folks working with teams, we often have folks wanting to bring Notion to their teams, which often means multiple licenses (and bulk group discounts).
Partnerships: we sometimes do guest workshops for other business owners, and we'll often offer a discount or affiliate arrangement for anyone whose community signs up for our course.
Another obscure but interesting way that we get sales is our course and the course sales page has been featured in various copywriting and design courses!
As far as retention, we run regular live office hours and weekly review sessions. Part of your purchase of the program gives you 12 months of access to our Solves library and other small mini-courses like our Formula Fundamentals course: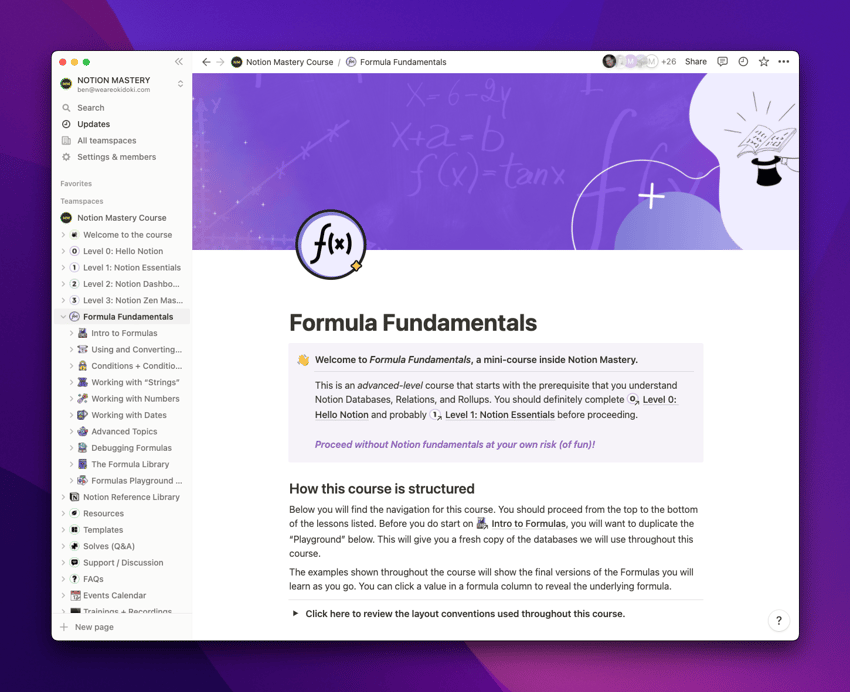 How are you doing today and what does the future look like?
We don't do any paid advertising, so the majority of our costs come from team salaries, contractors, and consultants.
Our product is profitable, which allows us to offer scholarships and pricing parity for other countries where the dollar doesn't go as far, as well as reinvest profits into the company, building a runway for future product development or hiring.
We're about to re-launch the Notion Mastery website and go deep on improving the course and student experience in the first quarter of the new year.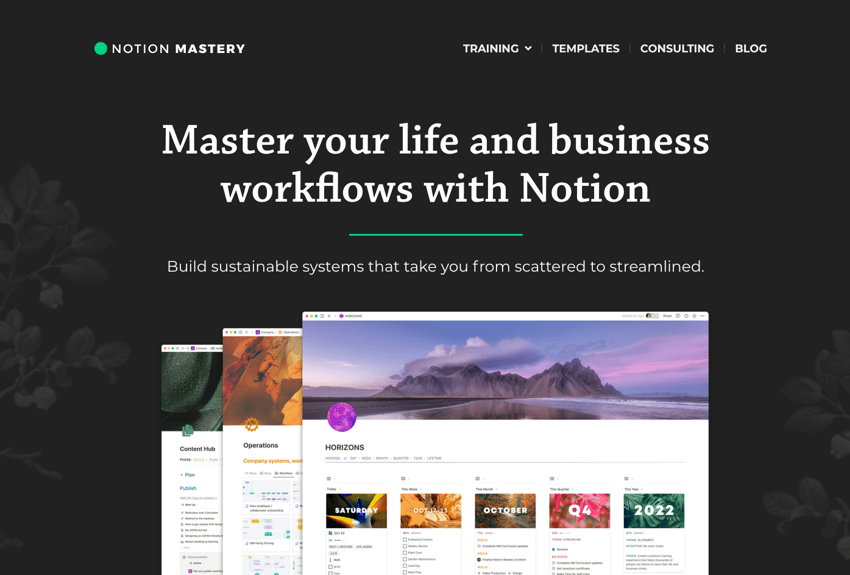 The Notion Mastery Website
Through starting the business, have you learned anything particularly helpful or advantageous?
Everyone is a potential collaborator. If you can view your potential "competitors" as simply possible future collaborators, everything changes and possibilities open.
Related: partner with other people to go further together.
Early partnering with Notion meant a lot of early exposure and people associating with me with the platform. We ran weekly office hours for Notion for over a year, reaching 10s of thousands of viewers. It helps me build up that initial mind share. One of the early challenges was folks assuming I was a Notion employee, and messaging me for customer support!
Hiring well is a superpower. A good hire can supercharge your business, while a poor hire can set you back months of time, money, and frustration. I avoided hiring for a long time because I was afraid and didn't know anything about delegating. I wish I'd done more research about hiring sooner!
As a small team, we've chosen to focus on paying higher salaries for more experienced roles rather than training up less experienced folks.
Luck and timing certainly also played a role in the success of our course. Notion was early enough in its growth that there wasn't a ton available in the way of educational content, Youtube videos, etc. While I wasn't the first to market, I might have been one of the first to go all in on Notion, pivoting my entire positioning and services around it. It felt risky at the time to put all my eggs in one basket, but I figured at the very least it could be a "chapter" in the life of our business, and we could always pivot if it didn't work out. Doubling down on Notion and owning that mindshare proved to be incredibly valuable, and was undoubtedly a key part of the growth of our course.
What platform/tools do you use for your business?
We use a ton of tools to run our business, but some of the key ones are:
Notionis obviously our central organization system
We run our community on Circle
ThriveCart, Stripe, and Wise help us with sales pages and finance
ConvertKit for email
SavvyCal for booking
For video production, we use Ecamm and Descript, and we do most of our live calls and training with Zoom
We use Tally to connect external forms to Notion
Make and Zapier for automation
Slack for some internal communication (though we primarily use Notion for discussion these days)
What have been the most influential books, podcasts, or other resources?
Everything in its place, Dan Charnas
Building a Second Brain, Tiago Forte
Unschools courses
Alexander Cowan's Venture Design framework
Tara McMullin (beta launching)
Emily M Walker (curriculum development support)
Stacy Howe-Lott (curriculum development and beta launching)
Mariah Coz (coaching, masterminds, and pre-selling)
Advice for other entrepreneurs who want to get started or are just starting out?
Sell before you make
Don't spend years and years building something that nobody wants. Write the sales page first. It may seem counterintuitive at first, but writing the sales page will force you to get very specific on your value proposition right off the bat. Many creators get stuck because they create what they want to create, and not what the market is hungry for.
If you can't pre-sell with a small interest list, you're going to have an even harder time trying to scale.
Let go of the "shoulds".
You're going to encounter so much advice and so many different opinions about what you "should" be doing in your business. We don't follow a lot of traditional rules when it comes to product and marketing; we've carved our path. Yes, we know that we're likely leaving money on the table, but we're designed to optimize for enjoyment, flexibility, and control of how we spend our time.
Related…
Design your business model around your lifestyle and needs.
Don't copy other people's business models just because you think that's what you're supposed to do. Your energetic needs, personal commitments, capacity, and interests should all play a factor in how you set up your business.
We had no interest in a launch-heavy model, so we designed a unique hybrid course style that allows us to sell our course on evergreen, while still offering valuable live events that keep people signing up all year long.
We weren't interested in the stress that comes along with big launches that require a big sales push. We'd much rather operate from a place of calm day to day.
You don't have to do what other companies are doing.
What if it could be different? Consider starting with your dream scenario and asking yourself what it would take to make it happen.
Are you looking to hire for certain positions right now?
At this time we're focusing on improving our internal processes and onboarding so we're in a better position to hire more in the future. Being a small team that grew fast has had its challenges, and we're making some changes in the next year to be able to facilitate that growth.
Where can we go to learn more?
If you have any questions or comments, drop a comment below!
–
Marie Poulin,
Founder of Oki Doki Digital Inc
Want to find more ideas that make money?
Hey! 👋 I'm Pat Walls, the founder of Starter Story.
Get our 5-minute email newsletter packed with business ideas and money-making opportunities, backed by real-life case studies.