Hello! Who are you and what business did you start?
Hi everyone! My name is Jeet Mehta and I'm one of the founders of Swift App – we build software to help sports facility owners run their businesses.
Our niche is for indoor baseball facilities – and if you've never been to one of these before, imagine a "factory floor" that's covered with long, rectangular "cages" where athletes can have a hit.
Generally, the owners of these facilities are spending hours on the phone every week handling bookings for batting cage rentals, lessons, classes, and clinics. Our flagship product (the software) helps them free up this valuable time, set up online payments, and open up new streams of recurring revenue!
Behind the scenes, the software also helps facility owners manage their staff, schedule their availability for lessons, view reports on their business, and more.
It's also a win for their customer (the player, parent, or athlete), who gets a 1-click online booking experience instead of having to call in to make a reservation.
We've grown the business to $10K/month and have been profitable since day one.
Swift App: The easiest way to run your sports facility
What's your backstory and how did you come up with the idea?
For generations, my family has been closely tied to sports. My grandfather, like a lot of other Indian kids, played a ton of cricket growing up. My father took that a step further and played cricket professionally in India. So naturally, when my brother and I grew up in Canada – cricket was one of the first sports we took up.
Eventually, both of us did pretty well at the sport. In 2019, I even got a chance to represent the Canadian national team (believe it or not, that's a real thing!) at a tournament in St. Kitts. It was also around this time that I ran across the problem that sports facility owners face.
The owner of the facility that I trained at kept complaining to me about how much time he spends on the phone, and how hard it's been to offload that work. He'd hired staff to manage all other aspects of the business (his retail store, his team, etc) so that he can dedicate his time to managing schedules.
This seemed strange to me….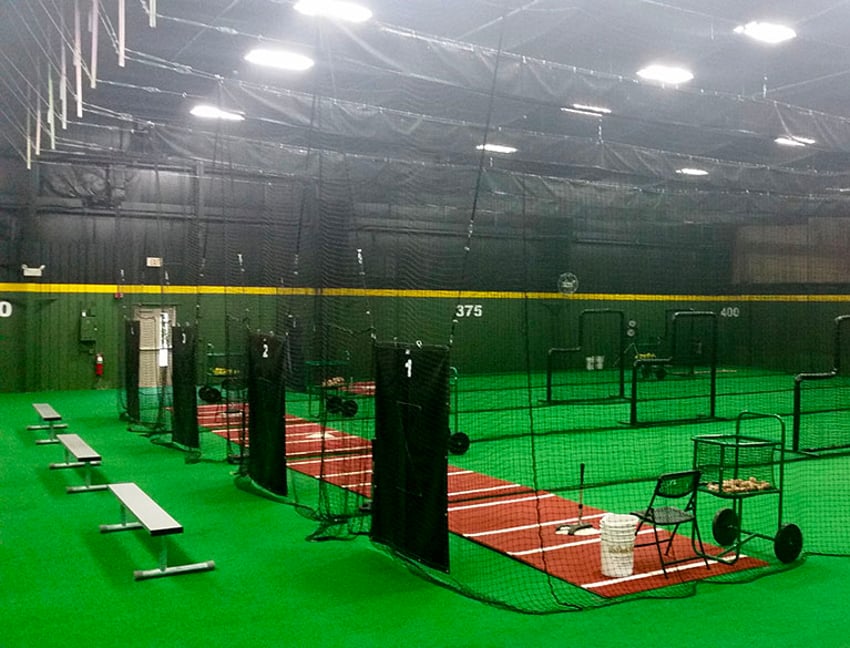 A few months passed and his complaints continued. He'd tried everything – even hiring a few freelancers to build a tool for him! Eventually, the problem piqued my curiosity enough that a couple of friends and I decided to help him out.
All of us were working full-time in Toronto tech at the time (I was a Product Manager at Shopify, and my friends were senior engineers at Opencare and Loopio). We'd always enjoyed building fun little side projects outside of work (like filtr.pub, SpeakMagic, etc) so this seemed like another opportunity to build. From our full-time roles, we had the experience to help him out.
The "aha" moment came when we built a mock prototype in Figma, and I sent him a video of me walking through this prototype on Whatsapp. He called me back immediately, and the first question he asked me was "This is amazing – how much does it cost?". That one question blew my mind.
For any of our other side projects, we'd never had anyone pay. Every time we added a paywall, users ran away. That should've been proof that the tools we were building weren't solving real problems.
And for the very first time, we'd stumbled on something real.
Take us through the process of designing, prototyping, and manufacturing your first product.
In the spirit of running lean, we first validated our problem with a mock prototype built using Figma. Once we'd identified the need, we then tried to confirm whether this can become an actual business.
Having someone pay for a service we built is an incredible feeling. He was also instrumental in finding bugs, coming up with feature requests, and giving us more context on the business which we'd never have had otherwise.
Since baseball is a much larger market in North America than cricket, and baseball facilities are essentially interchangeable in terms of layout – we figured that they might have similar problems. So we picked up the phone, Google'd "baseball facilities near me", and started calling.
Immediately there was interest. Almost 4 out of the first 10 cold calls resulted in valuable conversations. These conversations were key. They allowed us to catalog the specific needs that these facility owners have, and whiteboard a minimum viable product (MVP) to solve those needs.
And then we started building!
Building the initial prototype involved the classic hustle of early entrepreneurship. Lots of notebook sketches, late-night coding sessions, and tough conversations. In a few months, we'd built something that we could demo!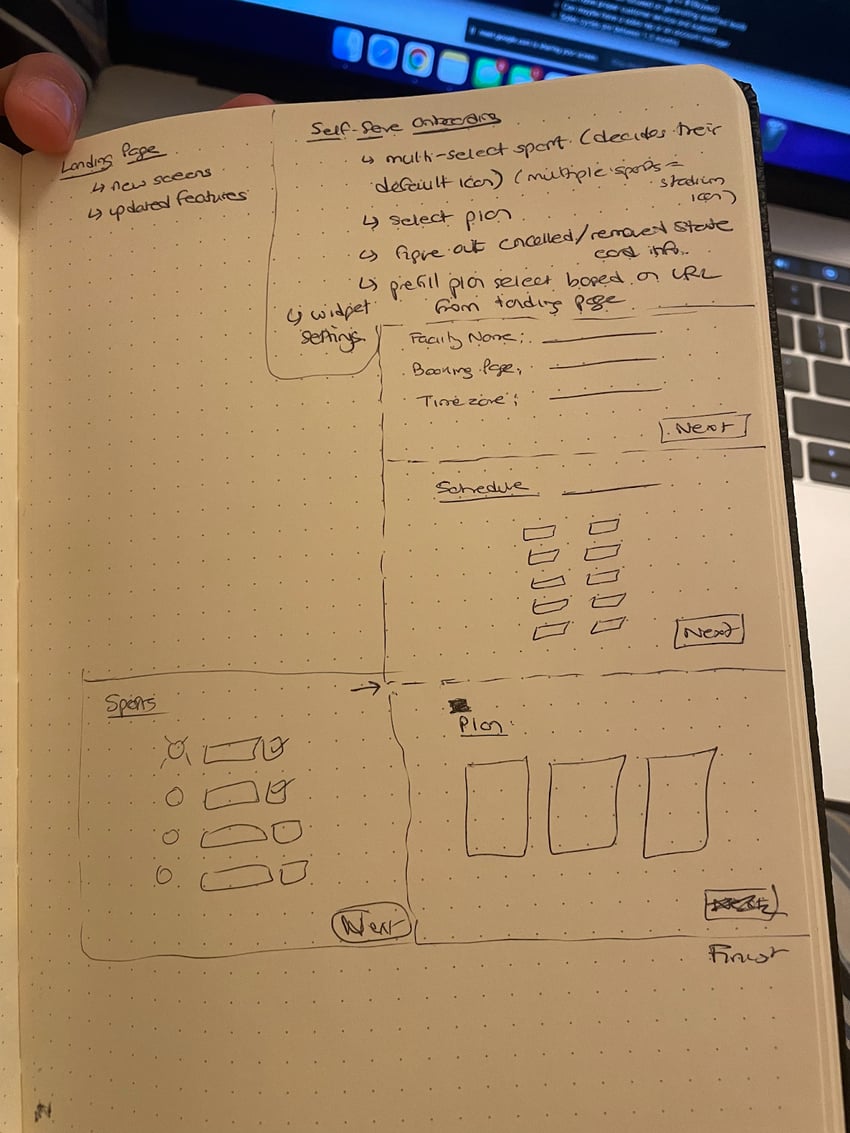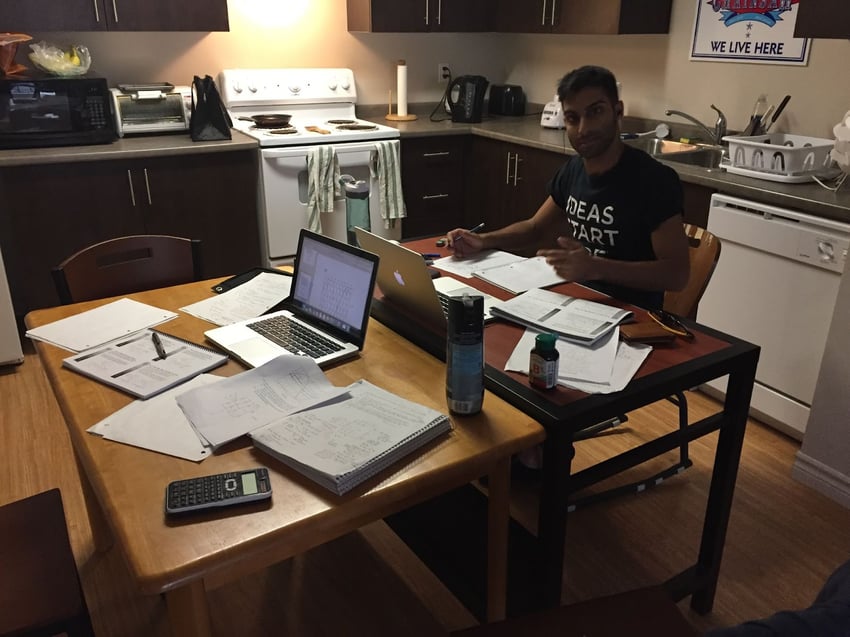 Early beginnings of Swift App
Describe the process of launching the business.
Around the same time as the initial prototype build, my co-founders and I left our jobs to pursue Swift full-time. This was also at the height of the pandemic – which meant, unfortunately, the original facility that brought up the pain point had shut down.
Luckily, around the same time, we had also spun up a basic landing page and spent $200 on Facebook & Google ads to drive traffic. The page just had a Calendly link for demos – all of which resulted in more face-to-face interactions with potential customers.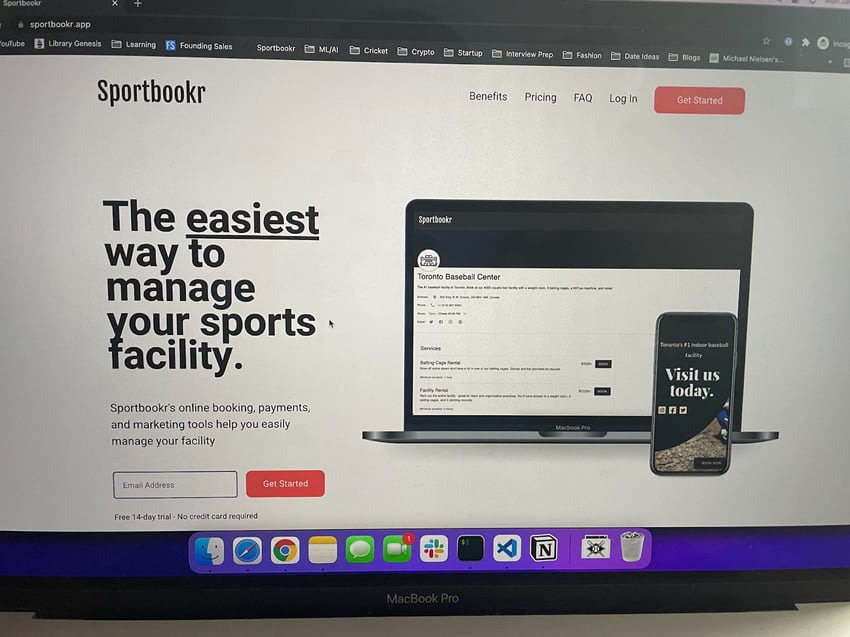 The earliest version of Swift App (called "Sportbookr")'s landing page
This meant that we had many other potential customers to that we could showcase the product. And that's exactly what we did!
With no real official "launch", we started demoing the product to baseball facility owners across the country – and they loved it. Our first paying customer joined shortly after, and we couldn't have been happier. Having someone pay for a service we built is an incredible feeling. He was also instrumental in finding bugs, coming up with feature requests, and giving us more context on the business which we'd never have had otherwise.
In terms of finances, the business was (and still is) completely bootstrapped. We moved back home to lower our burn rate, and thanks to COVID – everyone was a Zoom call away. This worked tremendously well – to the extent that we're still a remote company, with the occasional social meetup or whiteboarding session.
We also joined a cohort of founders at South Park Commons – a community of entrepreneurs all building together. The community was invaluable as well, allowing us to share lessons and vulnerabilities with other founders going through the journey.
Build with the right people. If the company succeeds long-term, the people you co-found with (or hire early) will be the folks that you spend some of your happiest and toughest professional moments with.
Since launch, what has worked to attract and retain customers?
Very quickly in the business, we realized two things:
Facility owners spend a ton of money managing their business so their propensity to pay for good solutions is high. This helped us figure out how to price our product. Too often, founders undercut their service because they know their product too intimately. Price is easily the highest leverage variable in your long-term financials, so we tried to use it well.
Their business is quite seasonal – which means our growth might also be seasonal. Facilities are really busy in the winters (where in colder climates, everyone is practicing indoors), busy again in the summers (with classes & camps), and downtimes are during the spring and fall. This influences how we do outreach and the channels through which we acquire new customers.
Similar to how we first validated the problem, our initial customer growth came largely from traditional outbound sales – aka picking up the phone and making a call. This was hard – especially for 3 engineers that have never done a sales job in their life.
But over time, it got easier and easier. We went from being scared to make a call to doing 30+ calls a day, all through practice and repetition. Online resources (like this from YC Sales School) also helped a bunch to level up our sales practice.
We also experimented with tons of different channels. Informal partnerships with adjacent businesses guaranteed a source of referrals. We offered a "one free month" based referral program, where facility owners would get a free month if they referred someone new (and the new customer would also get a free month). We posted in relevant private FB groups to gauge interest. We ran ads on Google and Facebook and played around with keywords to see what lands.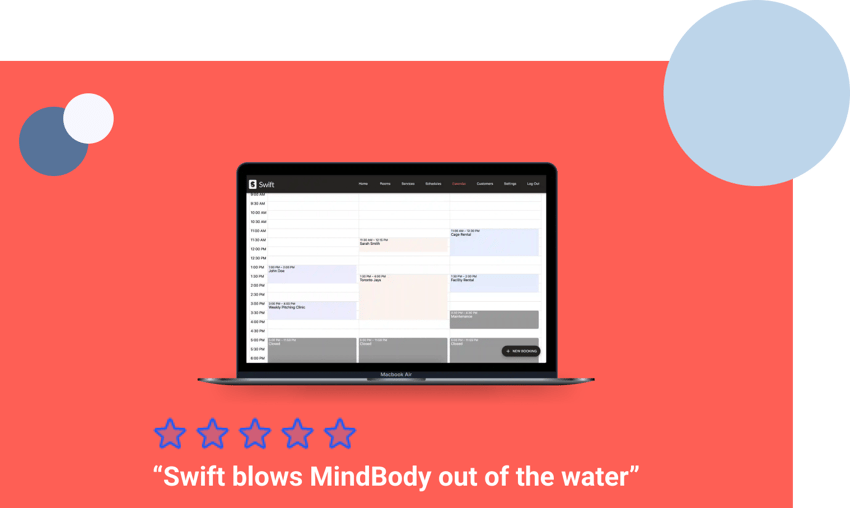 Ads and Facebook posts from the early days
Later, we also started regularly publishing content (like this post) to improve our SEO efforts and increase our ranking.
All of these things have helped us grow more than 50% month-over-month – but growth is an ongoing process. Each new stage of the company requires different channels, so it's something we're constantly experimenting with and learning about!
How are you doing today and what does the future look like?
Fast forward to today, and things are going well. We have been profitable from pretty much Day 1, with very healthy margins. A major benefit of software platforms is that the marginal cost of production is effectively zero, which makes scaling the business a successful endeavor!
Depending on the channel, we spend anywhere between $0-$200 to acquire a customer – and since the product is sticky (it's the first thing that owners log in to in the morning, and the last thing they log out of at night), the LTV is massive. We estimate that average LTVs is ~$4k, but even that is a rough approximation.
Growth has come from a variety of channels – our largest being search (through regular blog posts and paid ads), word of mouth (referral), and social (specifically, regular conversations with owners in private FB groups). We've also had tremendous success with just outbound sales – good ol' calls and emails.
In the short term, we want to continue delivering value to our facilities – whether that's through product features, exceptional customer support, or any other form of manual help.
Over time, we plan on expanding our software to other sports and verticals – with the long-term goal of reaching 7-figures in annual recurring revenue! Things are still very early at Swift, and we're excited to see where this journey takes us.
Through starting the business, have you learned anything particularly helpful or advantageous?
Starting a business can be very lonely – even if you're building with close friends, likely, most everyone else will not understand how hard the process can be. That's why one of the best decisions we made as a group was joining South Park Commons (SPC). Having a group of 300+ others, all going through the same journey that we were – but approaching it from different backgrounds, skill-sets, and philosophies was incredible. We could lean on each other, ask for advice, and find potential hires or partners.
Another really helpful practice that we organically stumbled upon was having regular "emotion check-ins" with the team. Since we started in the pandemic, remote work was our default modus operandi – and gauging emotions, motivation, and the day-to-day vibe is hard over a video call.
So we made a conscious effort to do this and set aside time to talk about team health and how folks feel about where we're headed. This was huge for keeping our heads on our shoulders during the highs, and our chin up during the lows.
Finally, this might be called "luck" or "stupidity" depending on who you ask – but after having validated the problem, we jumped into building a solution without looking at any existing solutions on the market.
This naive approach worked well for us because we weren't primed by things already tried – and ultimately, building from a "blank slate" is what allowed us to build a tool that was drastically different, and 10x better in value.
What platform/tools do you use for your business?
For processing payments, we rely on Stripe – the gold standard of Internet payments. They've been an incredible tool, and the analytics + documentation surrounding the product is top-notch.
In terms of other tools, we use:
What have been the most influential books, podcasts, or other resources?
The My First Million podcast is great. It's entertaining, and you also consistently get "golden nuggets" of information that you can apply to your existing business, or use to start a new venture! The hosts, Sam Parr and Shaan Puri are also both successful entrepreneurs that have sold their businesses for tens of millions.
Another awesome resource is Zero to One by Peter Thiel. Especially if you're looking to build something VC-funded (aka a billion-dollar company), the book is a great guide on long-term strategy, and avoiding competition (infamously in Thiel's words, "competition is for losers").
Advice for other entrepreneurs who want to get started or are just starting out?
Honestly, the biggest takeaway from the journey so far is also the most cliche – make sure you've honed in on a problem worth solving, before going out to solve it. This means ensuring that the problem is either costing time or money (ideally both), and the existing alternatives are ones where you can be 10x better.
Especially in software (and definitely if you have a technical background), people jump far too quickly into the building without even considering whether the problem they're trying to solve is worth (financially and otherwise) building. Don't make this mistake.
Another big learning is that growth is not something you do after you build the product, it's something you do while you're building it. There are two reasons for this:
If things go well, you'll never be "done" building the product. Building a business is an infinite game – there are always new ways to help your customers and grow your offering.
Certain growth channels (like SEO) take time to bear fruit, and need consistent output (content) before they start showing results. We made the mistake of using this as an excuse to ignore it – and that's not something I'd repeat.
Finally, build it with the right people! If the company succeeds long-term, the people you co-found with (or hire early) will be the folks that you spend some of your happiest and toughest professional moments with. Make sure they're the right people to surround you during those times.
Before Swift was a company, it was just one of the many side projects that my friends and I built – purely for fun. And because we have such a strong relationship outside of these projects, starting a company with them was a no-brainer (and probably the best decision in Swift's lifetime).
Where can we go to learn more?
To follow Swift in action, check us out at:
If you have any other questions or thoughts, drop a comment below!
–
Jeet Mehta,
Founder of Swift App
Want to start your own business?
Hey! 👋I'm Pat Walls, the founder of Starter Story.
We interview successful business owners and share the stories behind their business. By sharing these stories, we want to help you get started.
Interested in starting your own business? Join Starter Story Premium to get the greatest companion to starting and growing your business:
Connect + get advice from successful entrepreneurs
Step by step guides on how to start and grow
Exclusive and early access to the best case studies on the web
And much more!
PROMOTED
Did you know that brands using Klaviyo average a 95x ROI?
Email, SMS, and more — Klaviyo brings your marketing all together, fueling growth without burning through time and resources.
Deliver more relevant email and text messages —
powered by your data.
Klaviyo helps you turn one-time buyers into repeat customers with all the power of an enterprise solution and none of the complexity.
Join Brumate, Beardbrand, and the 265,000 other businesses using Klaviyo to grow their online sales.
Starter Story
Wanna see 52 business ideas you can start with less than $1,000?
Join our free weekly newsletter and get them right now.