[ad_1]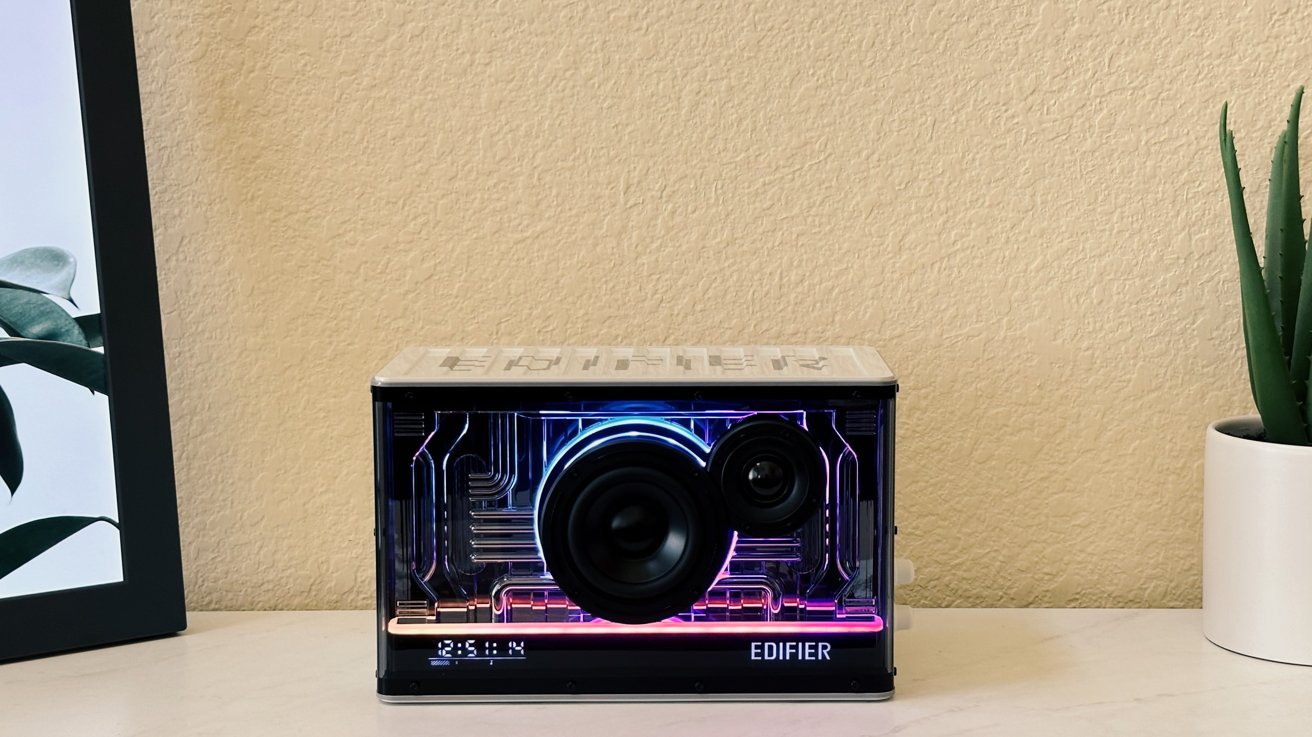 ---
The Edifier QD35 Bluetooth speaker is bright and flashy on a first look, but with a $200 price tag and mediocre wireless sound performance, it ultimately had some dim spots.
Don't get us wrong, there was a lot we did like about the QD35 speaker, but it didn't quite live up to its own — visual — hype.
We were drawn in by the speaker's light show that can be adjusted from a side knob or wirelessly from the Edifier Connect app. But that aspect ended up feeling like a gimmick before too long.
The Bluetooth speaker proved to be fine for certain tasks, but in the end, we didn't love how certain genres of songs sounded and that it didn't have a battery built-in to easily move it around.
Edifier QD35 design
The Edifier QD35 is a bold-looking speaker, and not just from the front — also from the top and sides.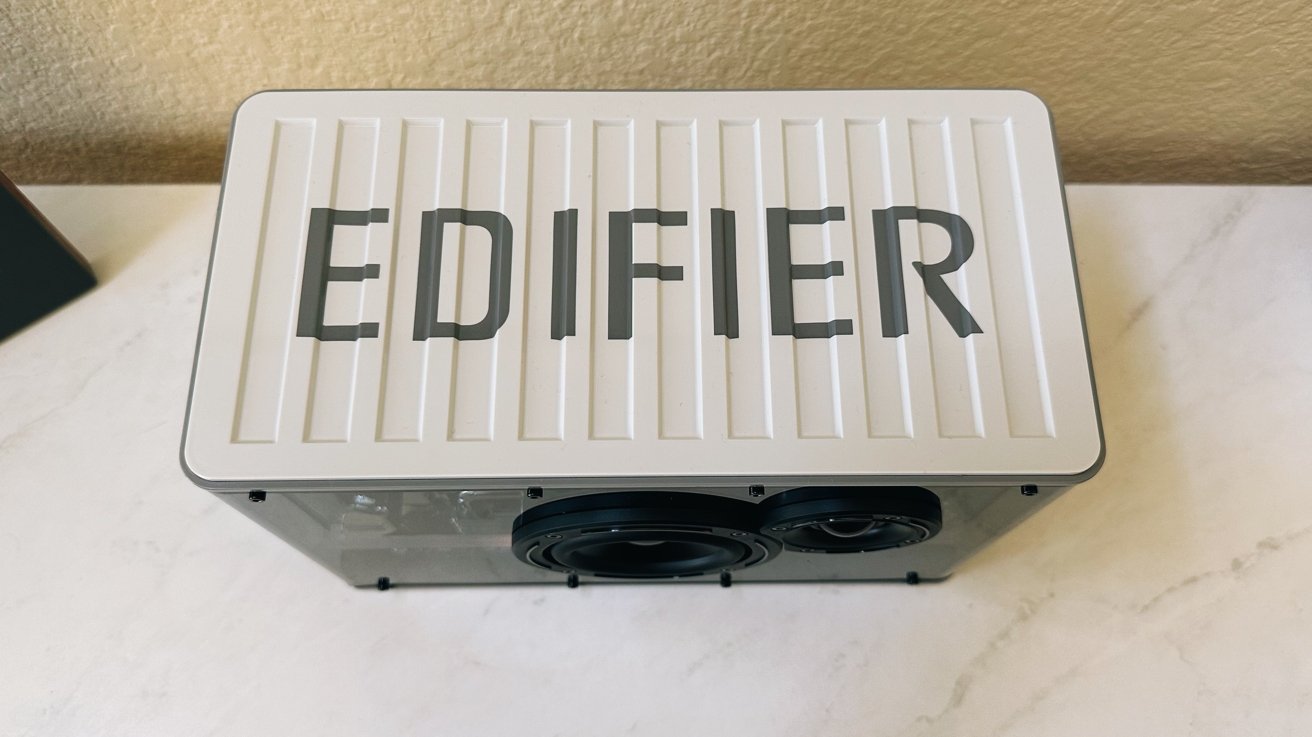 Top of the QD35 speaker
With its flashing colors, it's meant to grab attention. We didn't mind that aspect of it, though some people will appreciate it more than others.
If nothing else, its lights bucked the trend of being like other boring home Bluetooth speakers.
Despite being relatively compact, the speaker does need constant power from a wall outlet. It can then pass that along to other devices in the form of fast-charging USB ports on the side.
The TurboGaN charging tech allows the side USB-C port to power a capable device at 35W. The USB-A port can go up to 18W, and if both are used at the same time, each port will provide 18W.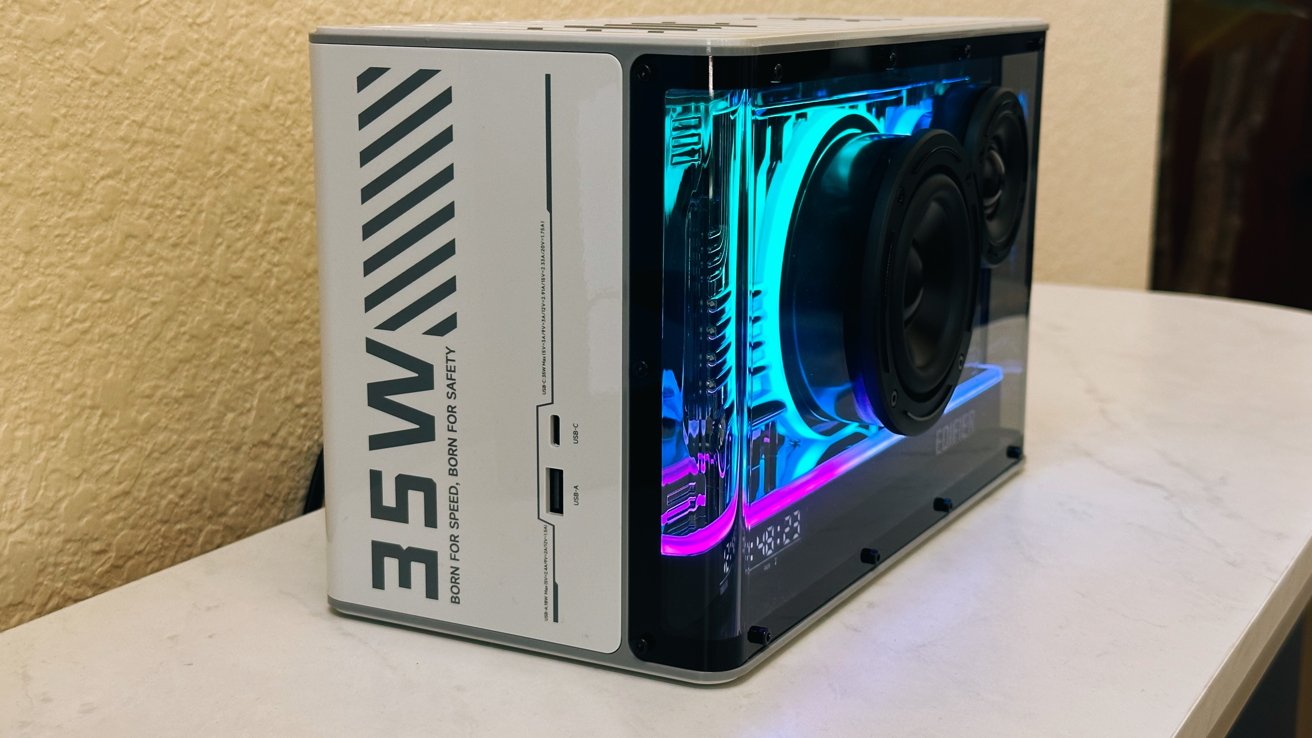 Available charging ports
There are plenty of different light pattern variations that can be used with dozens of colors. Importantly, you can also turn the front light off or dim it significantly.
Overall, the design was bold, but we didn't find it offensive. What we did find unfortunate was Edifier's need to plaster its name all over the speaker.
"Born for speed, born for safety" along the side was too much as well.
The time is on the front of the speaker and we really loved having it there. It can be synchronized in the Edifier Connect app and the speaker will keep the time, even when the speaker is turned off or unplugged.
Edifier QD35 sound
The QD35 speaker has a 3-inch 25W mid-bass woofer and a 1-inch 15W tweeter. Music got plenty loud when it went up to a volume level of, curiously, 16.
Songs sounded fine in general, but we were disappointed by the lack of punch and resonance from pop and rock songs.
The mid-range often sounded crowded and the bass drum usually lacked follow-through. The pounding rhythm during songs was often akin to hitting thick cardboard.
On the flip side, The National's "The Alcott," which features Taylor Swift and is largely piano-driven, sounded full and lovely playing through the QD35 speaker.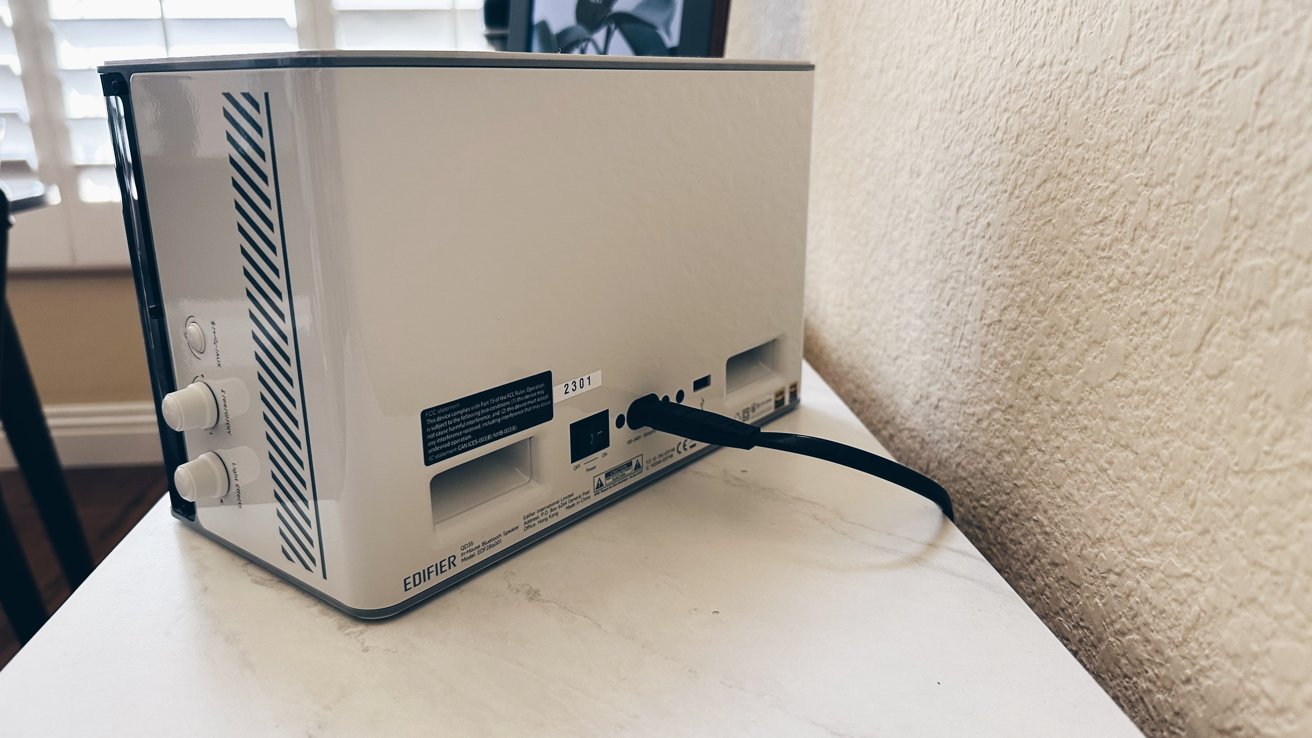 Back of the QD35
We usually streamed music from an iPhone, which will be a common use for most people. But we did connect a turntable to the aux input as well. That was only a mediocre listening experience.
This Edifier speaker wasn't bad, but it looked more impressive than it was.
Frankly, it's a bit unfair to compare the $200 QD35 speaker to a Marshall Stanmore III that costs $380, but the Stanmore III blew the QD35 away.
Even the $250 Sonos Era 100 embarrassed the QD35 in sound quality. The smaller Sonos Wi-Fi speaker boasted much better low-end and clearer mids.
A better comparison would be to Edifier's own R1280DB Bluetooth bookshelf speakers. Those too, were much better sounding than this glowing box.
We did stream music wirelessly from an Android phone with higher LDAC settings turned on, but that didn't change the casual streaming sound to our ears.
The QD35 is Hi-Res Audio and Hi-Res Audio Wireless certified. You can connect the included USB-A cable to the back A port for a high-resolution audio signal if you're using a PC.
Is the Edifier QD35 a good speaker to buy?
More than other Bluetooth speakers, there are a lot of considerations with this particular product. Whether it's right for you is about what role you want it to play.
The QD35 might look like it can do it all, but that was not our experience.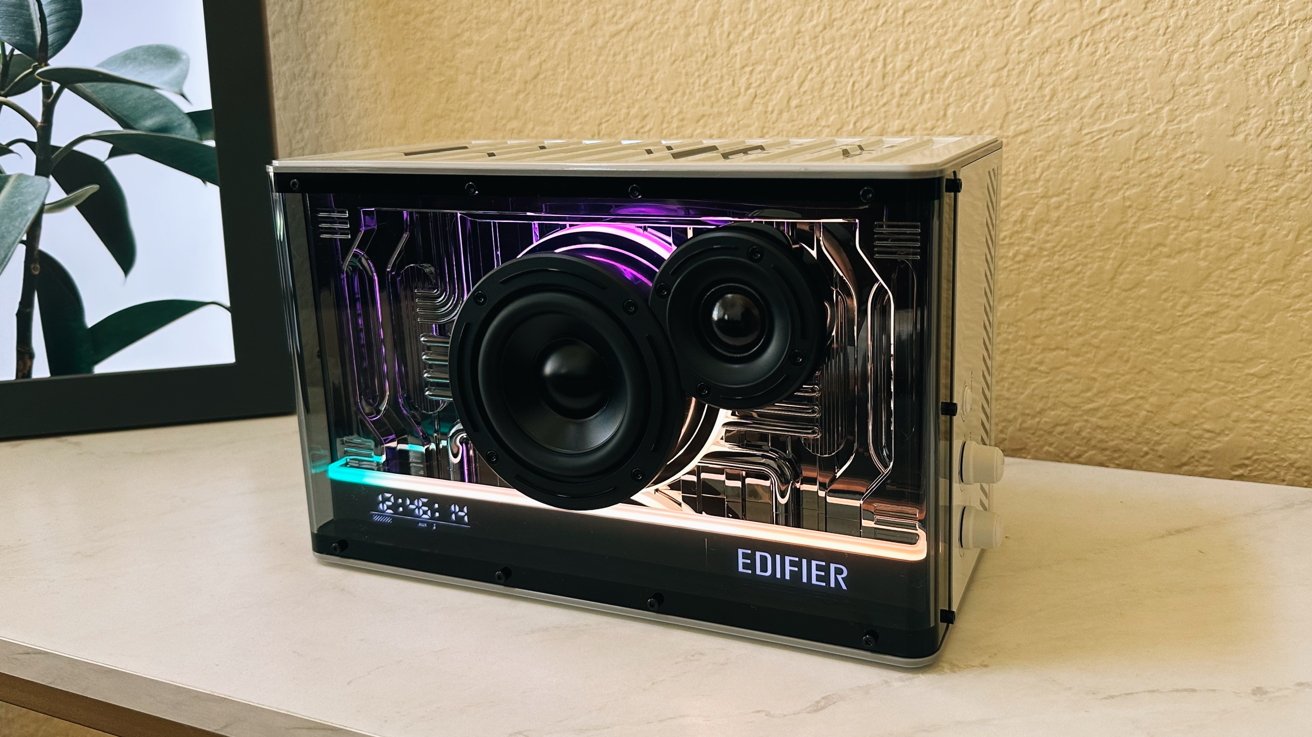 The front features a clock
If you're looking for a portable speaker that can play music with rich and thick bass resonating out of the woofer and ports, you'll likely be disappointed.
The QD35 can be connected to a turntable, but that use didn't excite us.
On the other hand, if you want a general-purpose, wireless speaker, with a lot of personality, this one might be it.
The QD35 could be a fun bedroom speaker because it can charge other devices, provide light, and show the time.
If those extra features don't seem useful or you're turned off by the design, then we would recommend picking a different wireless speaker — Edifier makes plenty of other great choices.
Pros
Fast-charging USB ports

Aux-in for connecting other devices

Colored lights were fun at times
Cons
Unnecessary over-branding

Sound was only mediocre for certain genres of music
Rating: 3 out of 5
This speaker is available for purchase at Amazon for $199.99.
[ad_2]

Source link